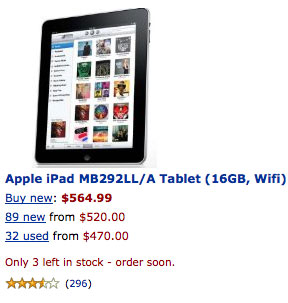 After being welcomed into Target stores over the weekend, Apple is pushing the iPad farther away from its own turf by offering up the tablet for sale on Amazon. Available in all models — from the WiFi-only 16GB to the WiFi+3G 64GB — it's easier than ever to get your hands on a new tablet from the comfort of your own couch. One-click ordering? Yes, please!
You may be wondering — but what about the Kindle? Will this make the iPad more popular than the newly refreshed reading device? Find out more after the jump.
The answer is: probably not. It seems that despite the fact that the iPad is poaching sales from laptops and computers, the Kindle and the iPad have very different audiences. Breathe easy — there's likely to be plenty of customers to go around in the world of ereaders.