Apple iPhone 4 Press Conference Q&A
Q&A From the Apple Press Briefing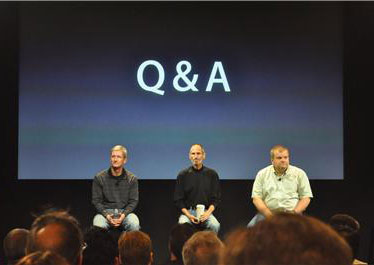 Earlier this morning, Apple announced its plans after the so-called "Antennagate" fiasco surrounding the iPhone 4. At the end of the 15-minute presentation, Steve Jobs and colleagues Tim Cook and Bob Mansfield sat down for a Q&A session with the press. Here are some notable exchanges:


On if Apple will consider any changes to future iPhone antenna design: We've been pretty busy with this, but we're pretty happy. The iPhone 3GS has the same problem. If we were to fault the iPhone 4 antenna, it'd be that we waved a red flag by putting the "touch me, grip me here" lines.
On why the signal drops when you hold a phone: When you make contact with the phone, you put your body between the phone and the signal it's trying to see. Your body is a pretty effective signal absorber. When you make contact with the phone, its performance is less than that of its free space performance.
On if he was told about the signal performance before launch: Are you referencing the Bloomberg article? Yeah? It's a total crock.
See more Q&A, including what Apple has learned and if it had considered a recall, after the break.
On if Apple is forcing users to choose between form and function: No, we strive to do both. We strive very hard, as an example, to make our products a really great size. The retina display in the iPhone 4? It's being recognized as the finest display ever [in a smartphone product]. It cost a little more, and we had to work a little harder to bring it to reality.
On if AT&T will be letting people out of their contracts: I believe so, yes.
On if Apple will be refunding third-party cases: There's a very small number of third-party cases out there. So no.
On if there's anything the team has learned or would do differently: I don't know yet. I can tell you one thing we've learned. We've learned how much we care about our customers . . . All of this hard data, we got that three days ago. In a few more weeks, we'll have even more data that will help us hone in on this problem. I'm not saying we didn't make a mistake — we didn't know that it would have these issues, we didn't know we were putting a bull's eye on the phone . . . but this has been so overblown. But to see how we could do better is going to take some time.
On if Apple considered a recall: When you love your customers as much as we do, nothing is off the table.