Apple iPhone 5C Case
Soft New iPhone Covers From Apple — Just in Case
For the first time ever, Apple is offering iPhone covers of its own for the just-announced iPhone 5C and gilded iPhone 5S.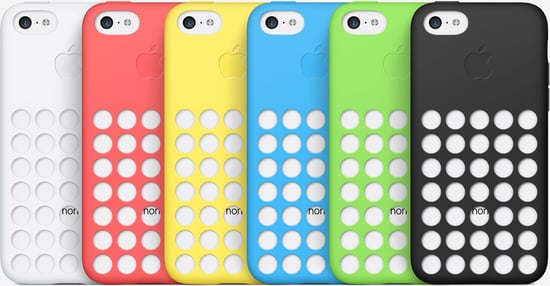 The iPhone 5C cases are made of soft silicone and lined with microfiber. They come in six colors: black, white, pink, yellow, green, and blue. The circle cutouts reveal the phone's color beneath, so you can mix and match hues. Volume buttons and the power button are covered, and the lightning cable port, mute switch, camera, and headphone jack are left exposed.
Sept. 20 is the ship date for the iPhone 5C cases by Apple, and they will cost $29 each.
Premium leather is the material of choice of the iPhone 5S case, which comes in six different colors: brown, beige, yellow, blue, and a special (PRODUCT) Red edition. The volume up/down buttons are fully covered, as is the power button, and the camera and silent switch are left exposed. The case, interestingly enough, also fits the iPhone 5.
Apple's leather iPhone 5S case will be available starting Sept. 20 for $39 each.