Apple iRadio Features
Apple iRadio: Streaming Soon on a Mac Near You
As hotly speculated, Apple announced its version of a music subscription service, iTunes Radio at WWDC on Monday. Apple may have been the one to bring purchased digital music to the masses with iTunes, but it had fallen behind in recent years with the crowded subscription streaming music services marketplace gaining customers' favor.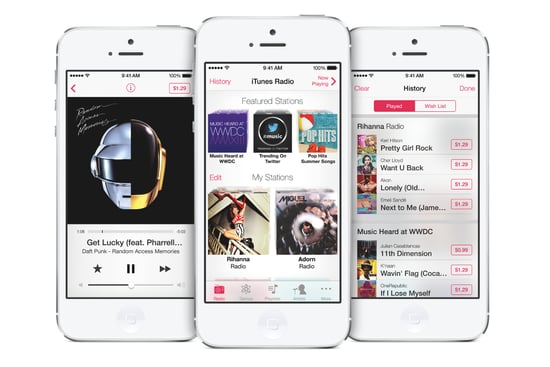 ITunes Radio will be built directly into iOS 7 mobile devices, Apple TV, and iTunes for Mac and PC, no new app download required. Over 200 stations are included in Radio, a mixture of those curated by Apple and genre-based. Integration with Siri was demonstrated during the keynote, with voice commands like "More like this" adding similar songs to a station, telling Siri to skip music, or adding a song to your iTunes purchase wish list.
Apple believes iTunes Radio will get to know your music tastes better than you do, growing stations and recommendations based on the songs you listen to, like/dislike, and download. Create a station based on a song you're listening to, even if it was uploaded to iTunes via CD.
Coming to the US this Fall, then moving on to other worldwide countries, iTunes Radio is free with ads or ad-free with the purchase of a $25 per year iTunes Match subscription. Customers that purchase Match can also store all their music in iCloud, which the recently announced Google Play Music All Access also offers.