Ashton Kutcher Tweets From Las Vegas
Ashton and Demi Dance (and Tweet) the Night Away in Vegas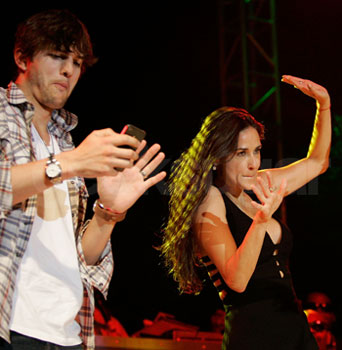 I'm heading to Vegas soon myself, but I'm not sure I'll have as much fun as Ashton and Demi did over the weekend! Ashton's Twitter feed lit up on Friday night as he and Demi made their way to Sin City, and it hit a high point when they played their own game of guess who before taking the stage with Snoop Dogg. It looks like the couple had quite an evening tweeting, livestreaming from his iPhone 4 (which seems to be covered in a free Incase Snap case), and dirty dancing in front of the crowd, but I was especially surprised to see that Ashton doesn't use the official Twitter app on his iPhone, instead choosing to use something called Osfoora ($3).
Are you curious to find out more about this app as well? Get the lowdown after the break.
Osfoora is a third-party Twitter client that comes with lots of cool features, like multiple account support, themes, the ability to tweet the songs you're listening to and customize your Twitter profile inside the app, trend support (including this week, today, and recent), font customization, and tons more. Besides features, Ashton's app of choice looks really clean on both the iPhone and in HD formats on the iPad. I hadn't heard of the app before today, so I'm curious to know — do you use Osfoora? Share your thoughts about the app in the comments!