Astrid App For Android Phones Keeps You Organized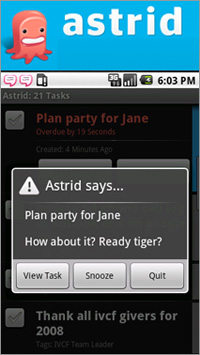 Create a fun, personalized to-do list with Astrid, an Android app that manages deadlines and priorities. The free app, which creators tote as a "task recording dashboard," not a to-do list, organizes tasks by priority, date, and time. To create a reminder, enter the task — anything from "walk the dog" to "pick up boyfriend from airport," a date and time, and tags like "important," "not important," "bills," or "work." There's even a field to enter how long the task will take to help you schedule your time most productively.
You can set fixed reminders ("Pay credit card bill!") or just add one-time events. You can also turn on reminders so the app pings you either before a task is scheduled, at the time it's scheduled, or as the "absolute deadline" (another field you can fill in) has passed. The reminders are cute and cheeky, too: "When you have a minute: Clean out your inbox," for example. Other useful features are the ability to hide tasks until a certain day and a completion meter that gives a visual representation of how much progress you've made on task-completion.