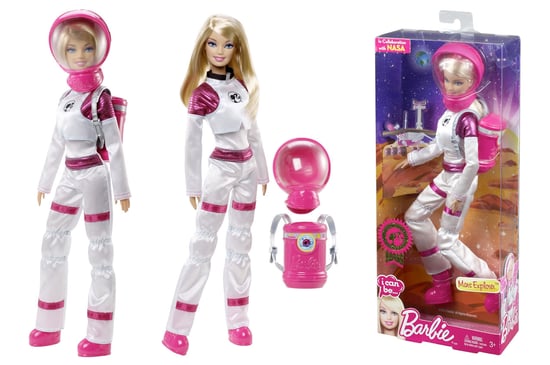 To Mars, Barbie! In honor of the Curiosity rover's one-year anniversary on Mars searching for ancient signs of water, the iconic doll is honoring her STEM education — Barbie has been to space before, in 1965, 1985, and 1994, not to mention her Space Camp stint — with Career of the Year Mars Explorer Barbie.
Even though Barbie has explored the universe before, this is Mattel's first official collaboration with NASA on creating a doll that honors women in science. Each Mars Explorer Barbie includes a list of facts about female American space explorers, and encourages people to visit the Women@NASA website to learn more about following in Barbie's career path.
While we like Barbie's modern spacesuit, ideal for a mission of unknown proportions to the Red Planet, we have to hand it to the 1985 look to blend science with aesthetics. As seen below, that helmet is no match for spacesuit shoulder pads!