Awkward Tech and Social Media Use in Entertainment
Vampire Bill Skypes and Other Awkward Uses of Tech in Entertainment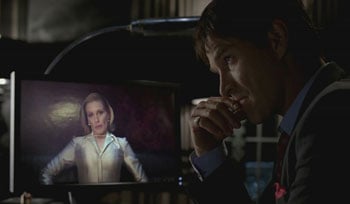 You know the moment, a scene in a film is moving along swimmingly until the character decides to log in to a chat service with outlandish graphics and finishes every sentence with an inexplicable emoticon. The crime? Awkward and unnecessary use of technology and social media in entertainment. If the audience knows what they're watching is set for the current year, giving such explicit visual cues often just looks comical and can come off as blatant product placement.
These three scenes of awkward tech moments left us a bit puzzled.
True Blood — A notorious suspect of this action, True Blood characters' use of social media or the latest gadgets is odd because it's not a regular occurrence. Throughout season four, we have seen characters playing a zombie game on an iPad, Bill Skyping with Nan, and Alcide talk on his shiny iPhone 4. Alcide seems more like an Android or old-school flip phone kind of guy, don't you think?
Sweet Valley Confidential — The 2011 update on the Wakefield twins has the girls in the modern era, so of course their slang, fashion, and culture would mirror that. Reminding the reader that even Jessica Wakefied uses social media, though, might be a little too much, like in this quote about the twin's boredom in an unhappy relationship. "Even updating Twitter would be more exciting, if only I had something interesting to say."
Gossip Girl — An episode of the show last year showed Vanessa stalk a girl on Foursquare. This is actually a scary reminder of the privacy you're giving up through social media, but the whole premise was so out of character for Vanessa that it couldn't help but feel as though the app and service were forced in the plot.
While we do appreciate the effort of TV shows, movies, and books to stay culturally relevant, having characters check in or update a status can feel forced. After reading our looks at unneeded technology inclusion in media, are there any similar scenes that have left you wincing? If there are moments where the pop culture tech references were spot on, tell us those too!