Notice your local sports bar's resurgence in popularity? Baseball season is back, and this year, resolve to follow your hometown players from the beginning. Stay up-to-date on every game, player injury, and even your fantasy team standings by keeping these four apps at the ready on your phone.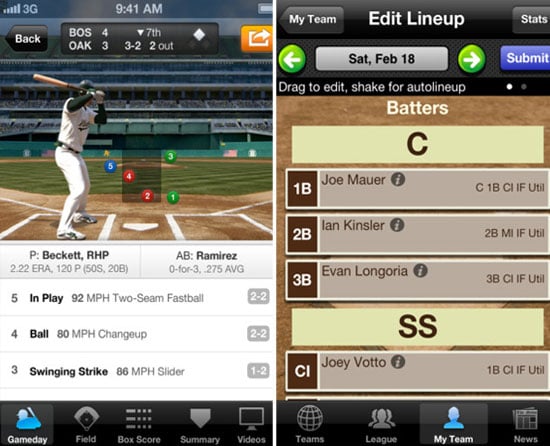 MLB at Bat [1] ($15) — The app itself is free, but to actually access audio broadcasts and video highlights of the 2012 season, you'll need to pay the $15 full-season fee or $3 per month. Only MLB.TV subscribers get the season for free, and they can also watch out-of-market games.
Fantasy Monster Pro ($5) — Fantasy baseball is serious business. Manage both your Yahoo! and ESPN teams in this one app, compatible with both Android [2] and iOS [3] devices. It's also not just for America's pastime — fantasy football, basketball, and hockey accounts are also available in the app.
MLB.com Full Count [4] (Free) — For iPhone and iPad, this app offers daily live video highlights of MLB games and the latest baseball news.
MiLB.com Triple-A 2012 [5] ($5) — Favor a minor league team? This app is what you'll want for keeping up with games in the International League and Pacific Coast League.