Battlestar Galactica Kokeshi Dolls
Forget Barbie, Let's Play BSG!
On their own, kokeshi dolls are pretty darn cute. A traditional handmade doll from Japan, a kokeshi is made without any arms or legs, have big wooden heads, and are usually seen in kimonos. The dolls are so beloved that Nintendo based its Mii avatars off of them! Swap out the usual kimono garb of a kokeshi and replace it with a BSG uniform, Jedi suit, or a Starfleet uniform, and you've got cute overload!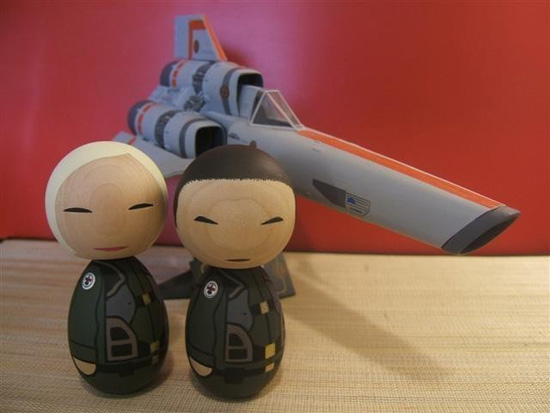 I'm loving the BSG kokeshi dolls from Etsy seller temple7e, and it seems pretty obvious that we're dealing with a true sci-fi fan. If BSG isn't your thing, there are also kokeshi Star Wars and Star Trek dolls too. Even though the Adama doll is pretty awesome, I can't decide which one to buy. What's your favorite? Check out the rest of the collection when you
.