Benedict Cumberbatch on Pinterest
Benedict, Breaking Bad, and More Social Bits From Geeks We Love
This week on the Interwebs, our favorite geeks got into costume, visited geeklands across the US, and found the highest concentration of Cumberbatch on the web. The World's End actor and writer Simon Pegg stopped by Marvel, The Nerdist's Chris Hardwick channeled his doppelgänger, and The Star Wars Craft Book author Bonnie Burton was found guilty of Bene-pinning.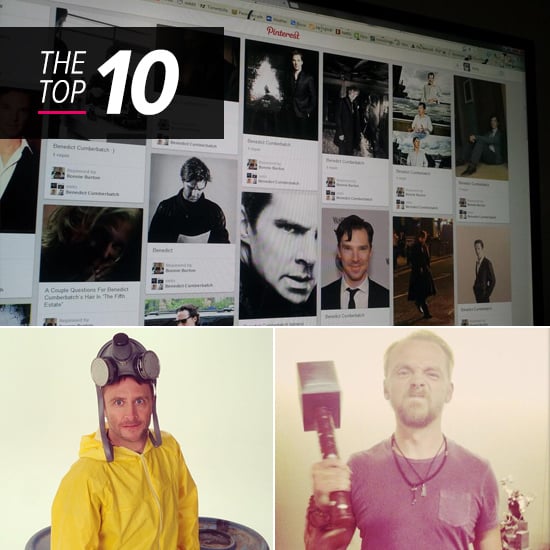 See Simon, Chris, Bonnie, and more in the top 10 tweets of the week from geeks we love.
Felicia Day of Geek and Sundry: This is the Tumblr you are looking for.
@feliciaday Would this be similar to the Hawkeye Initiative? http://t.co/3IqiPwd26p

— whatever, kade. (@whateverkade) August 12, 2013
Benedict Cumberbatch, the Internet's most pinnable man, brought to you by The Star Wars Craft Book author Bonnie Burton.
Ha! Guilty! RT @W3dd1e: Forgot that I followed @bonniegrrl on Pinterest until I logged in. pic.twitter.com/RpMyNKrmxu

— Bonnie Burton (@bonniegrrl) August 13, 2013
MythBusters host Adam Savage shares a Throwback Thursday snap of the show's mascot/test dummy Buster.
10 years ago, one of the first Buster analogs, peeing on the third rail. Bonus: look how fat I am! @MythBusters pic.twitter.com/Qfr3ivVdhS

— Adam Savage (@donttrythis) August 15, 2013
The World's End actor and writer Simon Pegg raises the hammer of the gods. A-Thor-able.
Fun at Marvel #2 pic.twitter.com/LzUgc1E6Zp

— Simon Pegg (@simonpegg) August 15, 2013
A redshirt in danger! Love this Legoman snap from Star Trek: The Next Generation actor Wil Wheaton.
Custom Star Trek LEGO. Check out the expression on the Redshirt! pic.twitter.com/fweFBZJxXz

— Wil Wheaton (@wilw) August 15, 2013
The Nerdist host Chris Hardwick's doppelgänger is for sure Jesse Pinkman from Breaking Bad.
The Vampire Diaries and True Blood actress Janina Gavankar finds herself in a Half-Life/Portal sandwich.
Yesssss! (Name the games!) pic.twitter.com/jT98ga7EC8

— Janina Gavankar (@Janina) August 16, 2013
Actor Nathan Fillion goes incognito. Sort of.
If you are a celebrity, use a code name at Starbucks, so as not to cause a stir. http://t.co/p8NqIVov0n

— Nathan Fillion (@NathanFillion) August 12, 2013
The Sync Up host Veronica Belmont had one too many vitamin gummy bear supplements.
Answers from Dr. Internet range from "nothing," "you will die," "you will pee it all away," "you may glow neon and receive super strength."

— Veronica Belmont (@Veronica) August 14, 2013
StarTalk Radio host Neil deGrasse Tyson keeps his eyes to the skies during an annual celestial wonder.
Tonight, Earth plows through up to 1,000 tons of rocky debris. Behold the annual Perseid Meteor shower http://t.co/YSzvozKLOR

— Neil deGrasse Tyson (@neiltyson) August 10, 2013