Best of 2010: iPhone 4 Is Best Phone
Best of 2010: Favorite Cell Phone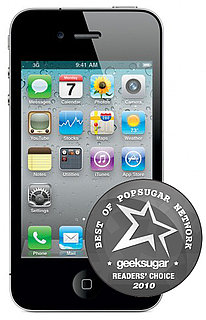 Well, no shocker here. When asked which phone released in 2010 was your favorite, you answered with a resounding iPhone 4. Over half of the responses were in support of the newest iPhone, with the HTC EVO 4G coming in a distant second with 11 percent of votes.
The iPhone 4 hit shelves on June 24 and was an instant success, selling out of many locations and causing huge lines for days. Surprisingly, the iPhone 4 was not the best-selling phone of the year; that honor goes to the iPhone 3GS with the iPhone 4 at number five on the list. (To be fair, it was only in stores for half of the year, so it's an impressive showing nonetheless.)
Even though some think the HTC EVO 4G is technically superior (remember that hilarious meme?), many will admit that the siren song of the iPhone 4 is very tough to resist. These results agree!
Celebrate the end of a year and the start of a new one with all of our Best of 2010 coverage.