Best Apps For iPhone and iPad 2013
Best of 2013: Apple Picks the Top Apps For iPhone and iPad
The winners are in: the Apple App Store editors have announced their picks for the best mobile apps and games of the year. Bright and beautiful interfaces were one of the themes among the 2013 victors, as well as interactive, animated learning apps.
Take a look at the apps and games of the year, as well as 2013's most downloaded apps — then get these top-notch iOS offerings for your iPhone and iPad immediately.
Editor's Choice: iPhone
App of the Year — Duolingo (free) is a language-learning app for Spanish, French, German, Portuguese, Italian, and English that uses fun mini games and bright animations to help people practice their new linguistic skills. It's also completely free, without ads or in-app purchases.

Runners-Up — Photographer favorite VSCO Cam (free) and Endless Alphabet ($6), an interactive vocabulary learning app for kids, also got nods.

Game of the Year — Ridiculous Fishing ($3) was one of our favorite addictive games of the year. With its unique 8-bit styling and clever, absurd game play, this app had us catching (and shooting) sea creatures for hours on end.

Runners-Up — The text-intensive, puzzle-game thriller DEVICE 6 ($6) and the silly, action-packed sequel Plants vs. Zombies 2 (free) also came close.
Top Paid Apps: iPhone
Minecraft — Pocket Edition ($7) pushed its biggest update yet, with new items, new textures, new crops, and new blocks.
The Charades-meets-Catch-Phrase game Heads Up! ($1), developed by Ellen DeGeneres, will have you and your friends rolling on the floor laughing. Categories like Pop Star Overload and Hey Mr. DJ are full of game play cards featuring today's top celebrities and music.
Temple Run: Oz ($2) is a new, magical take on the original jumping, sliding, and running game.
Top Free Apps : iPhone
Candy Crush Saga (free) was certainly the breakout hit of the year. Players were completely addicted to the deliciously sweet and satisfying Bejeweled-esque game.
YouTube (free) rose quickly to the top of the charts after Apple removed YouTube as one of its built-in apps in iOS 6.
Temple Run 2 (free), the sequel to the original Temple Run, has a special holiday update that adds a waterslide and the ability to run as Santa.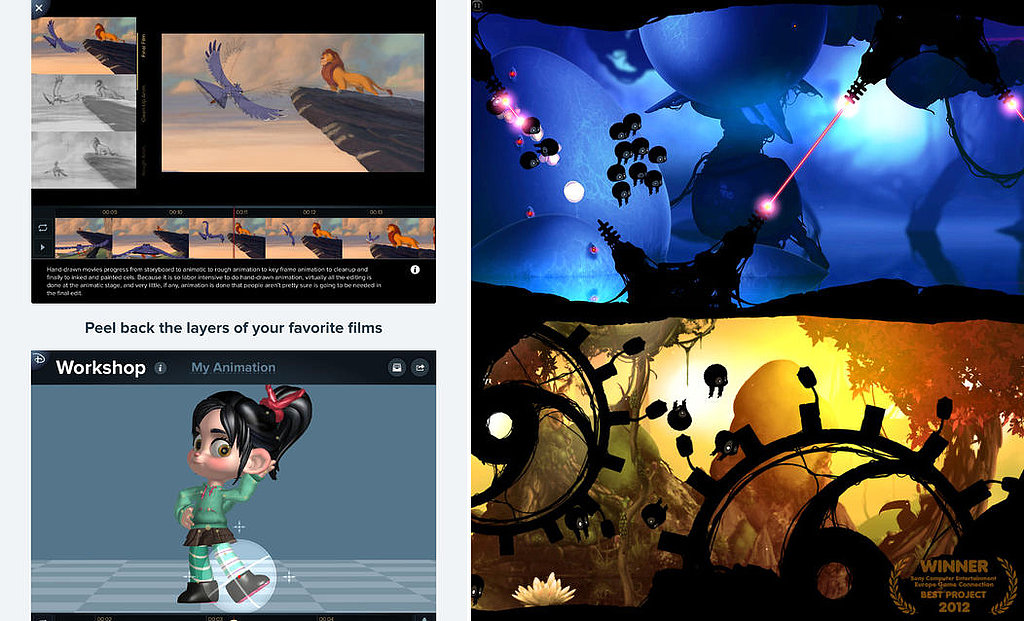 Editor's Choice: iPad
App of the Year — According to the App Store's editors, Disney Animated ($10) took the top honor for its "spellbinding presentation." Learn how Disney animation is brought to life, and take a look at exclusive concept art from Disney films.

Runners-Up — The professional-grade music mixer Traktor DJ ($20) and WWF Together (free), which offers a beautiful multimedia experience for learning about wildlife, received honorary mentions.

Game of the Year — Badland ($4) is a whimsical side scroller with a hilariously clumsy protagonist who you must guide through an enchanted forest full of clones and magical plants. Its cinematic visuals are absolutely stunning.

Runners-Up — The alien invasion campaign game XCOM: Enemy Unknown ($20) and Impossible Road ($2), the tilt-to-drive racing game that never ends, are two very different apps that were also noted by Apple.
Top Paid Apps: iPad
Temple Run: Oz ($2)
Top Free Apps : iPad
Candy Crush Saga (free)
YouTube (free)
Temple Run 2 (free)