Best Black Friday Deals 2011
Best Black Friday Deals Roundup
It's hard to believe that we're halfway through November already, but it's true. Not only is it time to start thinking about your guest list for Thanksgiving dinner, but also your Black Friday shopping list. Get a head start on your planning by checking out these Black Friday ads that are already posted online for your browsing pleasure.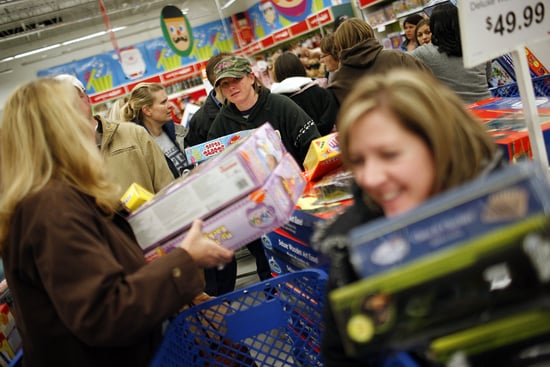 Amazon
Motorola phones will be on sale for just a penny. Some of the available models include Droid Razr 4G, BlackBerry Torch 4G, HTC Inspire 4G, HTC Rhyme, Samsung Focus Flash 4G, and more. This sale is available now through 11:59 p.m. Monday, Nov. 28.
Verizon and Sprint customers are eligible for some extras. If they activate a mobile hotspot data plan on their hotspot-capable smartphone, they will also receive a $100 Amazon gift card.
Apple
Apple's sales will take effect on Friday, Nov. 25 at physical locations and online.
Get $101 off MacBook Airs, Pros, and iMacs. The 11-inch MacBook Air will be on sale for just $898!
Save up to $41 on iPods, including iPod Touch and Nano
iPads (first and second generation models) will be discounted up to $61.
Accessories for Macs, iPods, and iPads will be discounted as well.
Best Buy
Stores will be opening at 12 a.m. on Black Friday. Get a closer look at the Best Buy Black Friday ad here.
An insane deal, the Sharp 42-Inch LCD 1080p TV is only $200. Better get in line early for that one.
Capture precious moments with the Canon Power Shot ELPH 300HS Digital Camera for $150.
Alternatively, you can grab the Kodak PlayFull 1080p HD Camcorder for just $70.
Insane prices on DVDs — just $1 and up.
Or, grab Blu-rays starting at $5 and up.
GameStop
Stores will be opening at 12 a.m. on Black Friday.
Trade in your old DSi XL and get a 3DS bundle (that includes the system and a game) for $100.
The black Wii bundle, which includes Super Mario Bros. Wii and the official Super Mario Galaxy soundtrack, will be selling out at $150.
There's also a Xbox Kinect Bundle, which includes 250GB Xbox 360, Kinect, wireless controller, three-month Xbox Live membership, and two games for $300.
Kmart
If you're looking for a camcorder to capture family moments, snatch up the Sony Compact Camcorder with 60x Optical Zoom, which is on sale for $170.
Listen to your tunes on the cheap with Maxell Color Earbuds that are going for $2.50 a pair.
I love the Samsung PL120 DualView digital camera for self-portraits and videos, and on Black Friday, you can get one for yourself for just $99.
Looking for an affordable tablet that will let you surf the Internet on the fly? The Archos 8GB 101 Internet Tablet will be priced at just $219 on Black Friday.
Office Depot
The 17-inch HP g7 laptop is going for $350, but if you buy any HP laptop you can also get the HP Touchpad for $149.
The "tech bundle" from Office Depot offers a laptop sleeve, wireless mouse, and 500GB hard drive for $80.
8GB SanDisk SD cards are only $9 each.
All M-Edge Kindle accessories and cases are buy one get one free.
All tablets are on sale during the Black Friday sale. The BlackBerry Playbook is only $200, while the Lenovo IdeaPad is $300.
The Canon Power Shot A22 14.1MP digital camera is $90 and comes with a free 4GB SD card.
Sam's Club
Stores will be open starting at 5 a.m. on Black Friday and will include a complimentary egg sandwich breakfast for members!
It could be better, but for the price of this Samsung 51-Inch Class 720p 600Hz Plasma HDTV ($498), it's a nice upgrade for someone with a smaller screen.
If you don't already have one, the Sony PS3 160GB Bundle is going for $239.
Or, get a Nintendo Wii Limited Edition Blue Console for only $99.
Need a laptop? The HP Pavilion 17.3-Inch Notebook is $499.
And though model numbers haven't been released, select 4G Android Smartphones are going for just $1.
Target
Stores open at midnight on Black Friday.
Get your game on with the PS3 gaming bundle, that comes with a 160GB PS3 Slim, two games (including Little Big Planet 2 and a 30 day PlayStation Plus membership for $199.
The Acer 10.1-inch netbook is $72 off and priced at $157 on Black Friday.
Get a Westinghouse 47-inch 1080p LCD HDTV for $298. That's $250 off the regular price of $550!
Select video games start at $5 a piece and DVDs starting at just $2.
Other gaming bundles include the Kinect sensor bundle (Kinect, two games and two game downloads) for $99, and a 3DS bundle (red 3DS and a copy of Super Mario 3D Land) for $180.
Walmart
Walmart's Black Friday ad is available to view online. Electronics will be going on sale starting at 12 a.m. on Black Friday, while toys and other departments will be open for shopping at 10 p.m. on Thanksgiving Day.
Get your hands on an LG Blu-ray Player for movie-watching fun for just $49.
Or, if you're in need of some sweet sounds to go along with your flicks, the Philips WiFi Blu-ray Home Theatre is going for $178.
Upgrade your movie-watching experience with the Samsung 51-Inch Plasma TV, priced at $498.
Keep the fun coming with DVDs starting at just $2 and up.