Best Buy Discounts and Deals With Shopkick
Get Discounts at Best Buy Without Checking In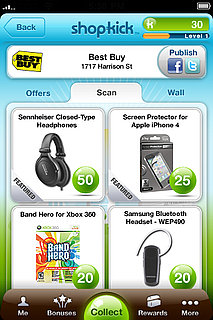 I love me some location-based rewards, but sometimes I forget to check in to a location, which means I can lose out on a good deal. But with one new app, you can waltz into a Best Buy and automatically earn points, without ever needing to click "check in" on your smartphone.
The app is called Shopkick and is currently partnered up with the likes of Best Buy to bring you some great rewards just for visiting a store in one of its launch locations — 187 stores in LA, Chicago, San Francisco, New York, and San Jose on Aug. 17, with Dallas, Minneapolis-St. Paul, and Miami being added on Oct. 1. Find out how this Shopkick/Best Buy mashup can help you save money after the jump.
First, you'll need to download the free Shopkick app on iTunes (starting on Aug. 17; Android edition coming soon) and head out to your nearest Best Buy. Shopkick will automatically detect your location (thanks to sensors installed in partner stores) and load your account with rewards (called KickBucks), which can be redeemed then or banked up for larger purchases. Then, you can scan products in-store to find additional savings, or just head to the cashier with your purchases and provide your phone number to redeem rewards, which will show up automatically on your receipt.
Not only can you use Shopkick at Best Buy, but you can also "check in" to other locations in your area to find existing or new rewards to redeem. Am I the only one who is excited about the new batch of rewards-based apps that are being developed now? It seems it's easier than ever to save money with your smartphone! TechCrunch recently got an up close and personal look at how ShopKick will work. Check out a cool demo of Shopkick below!