Best and Favorite Computer Programs
Geek Out: Which Programs Can You Not Live Without?
The My Favorite Gadgets group is my go-to spot for figuring out which gadgets you can't live without, but what about programs? I'm curious because today I realized there is no way I could function without the Stickies program on my MacBook Pro.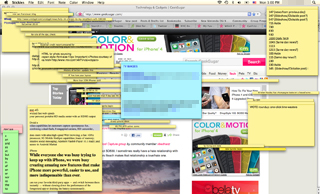 As evidenced by the screen shot of my computer's desktop to the right, I use Stickies for everything from leaving casual notes to myself to serving as a clipboard for text I'm cutting and pasting in a document. I realize that Stickies comes standard on every single Apple computer, but that doesn't make it any less of a find! Which programs (standard or downloaded) can you not live without? Let me know in the comments below!
And, of course, if you're in a sharing mood, head over to the My Favorite Gadgets group to share your top tech toys!