Best Harry Potter Spells
7 Favorite Harry Potter Spells and Enchantments
The charms of the wizard world are never more apparent than when Harry, Hermione, Ron, and the gang cast spells and enchantments while wandering the halls of Hogwarts. Though the closest our Muggle world comes to spells may be smartphone apps, we definitely daydream about using the spells in everyday life. Check out our top seven spells below, a mix of fun and practical! Did your favorite spells from the Harry Potter books, films, and video games make it on our list?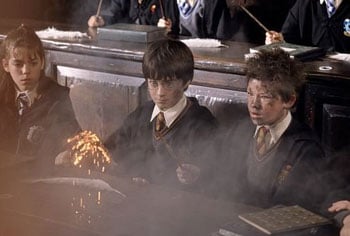 Accio — The classic. This spell summons an object. Recite "accio broomstick" would call forth a broomstick to fly away on.
Wingardium Leviosa — Another classic for the Hogwarts crew. Point your wand at an object and recite this spell to make it levitate.
Orchideous — Hopefully Harry has this flower conjuring spell memorized to woo Ginny.
Episkey — Vanquish paper cuts and stubbed toe with"episkey," which heals minor injuries.
Three more spells we'd love to learn after the break.
Lumos — While Muggles have flashlight apps, wizards cast a light directly from a wand with this spell. The "nox" spell turns out the light.
Rictusempra — Sends the target into a fit of giggles. Use sparingly with already adorable babies.
Reparo — Think of all the broken dishes, shoe heels, and iPhone screens saved if only we had this spell to repair objects.