Best Online Countdown Tools
Geek Tip: Count Down to Any Big Day Online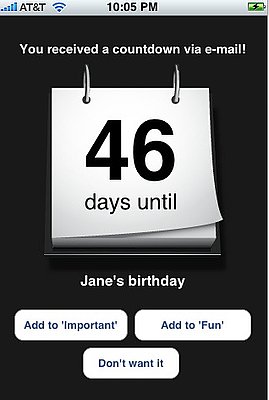 The mathlete in me loves countdowns. There are seven month left until Christmas. Less than 30 days until the new iPhone comes out. Four days until my new shoes arrive via UPS. Just a few hours until the season finale of Gossip Girl. You get the picture. If you aren't a numbers person naturally (hey, we can't all be Lindsay Weir) you can build anticipation for your big day — be it a walk down the aisle, high school reunion, or even the weekend — using your everyday gadgets.


Calculate Days Left From the Web: If you just want to know the number of days you have left, visit this website, type in the date and let the site's algorithms do the number crunching for you.
Install the Countdown Dashboard Widget: If you're a Mac user, install the free countdown dashboard widget. It's generic, so you set a date and time and it starts ticking. You can also set alerts. It's aces for long term goals (you have 45 days to work out before hitting the beach in that tiny bikini you just bought!) and daily reminders.
Download the iPhone Countdown Calendar: If you're an iPhone or iPod Touch user you can get your geek on with this handy app ($3).
Put a Countdown on iGoogle: You can put the Countdown to Any Google Gadget on your iGoogle page and countdown to any date you choose from your Google home page.