Best Reddit Apps
5 Clean, Minimalist Apps For Mobile Redditors
In the vast and open worldwide vortex of Reddit, it's easy to get lost. The destination for social news is a treasure trove for the most interesting, hilarious, and shareable finds on the Internet, but — let's be honest — Reddit isn't the most user-friendly site on the web.
Thankfully, there isn't just one way to access "the front page of the Internet." For the minimalist Reddit set, there are fantastic clean and simple apps that boil Reddit's maze of links, arrows, and endless comment threads down to their essence.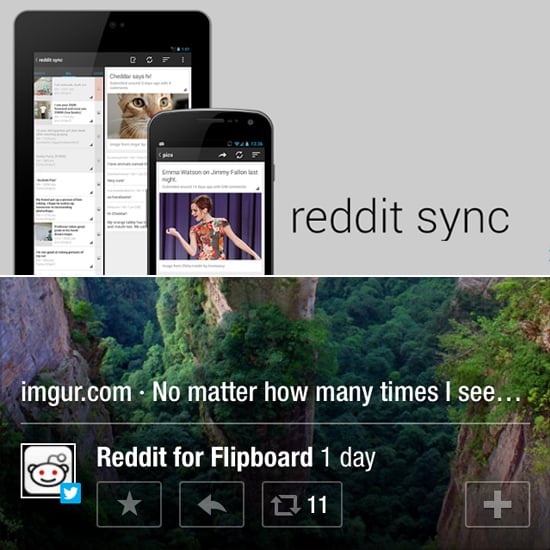 Enjoy your crowd-sourced, LOL-inducing, thought-provoking news with some of the best-looking Reddit apps for iOS and Android around.
iOS and Android
@redditflipboard — This Twitter feed specifically curated for Flipboard (free for Android and Flipboard) is our favorite Reddit reader. Download Flipboard, tap the top right to expand the navigation pane, search for "@redditflipboard," click on the Twitter handle search result, and tap the bookmark icon in the top left to save it — now swipe away!
iOS
Alien Blue (free or $2 in-app upgrade for iPhone, $4 for iPad) — This app is everything you need in a minimalist mobile Reddit reader: clean, efficient, and quick. Alien Blue has all the swiping and gesture features that you'd expect from a well-crafted app. The pro version unlocks new views, Retina-optimized thumbnails, muting posts by keywords, and more.
Karma (free) — This app doesn't have as many features as Alien Blue, but it is the most beautiful of the bunch. For Redditors who favor simplicity, opt for Karma.
Android
Bacon Reader (free) — This client makes the World Wide Web of Reddit supernavigable. All subreddits, up/down votes, and submission forms are within a single swipe or tap away. Our favorite feature are color-coded comments that make it easy to read long threads.
Reddit Sync and Reddit Sync Pro — The app is fast, clean, and ad-supported, but you can download the pro version to remove the banners. It's most download-worthy feature is offline syncing to Google Drive (hence its name) of subreddits and image posts.