Best Safari Extensions
Safari Extensions Gets Official: 12 You Should Add on Now
Two bits of good Safari news this morning — first, Apple has released another update (Safari 5.0.1) to fix that pesky AutoFill problem we reported a few days ago, and second, the Safari Extensions gallery is officially open for business!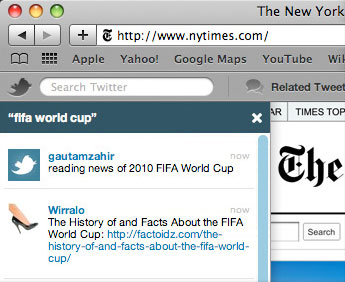 Firefox users have been enjoying sweet extensions for a while now (while Chrome users' extension choices have been rapidly expanding), and Apple has finally jumped on the wagon to allow developers to create helpful and fun extensions to make browsing easier. There's 16 different categories already up and running, and here, I'll tell you which ones you should consider adding on first. Check them out below!


Twitter for Safari — The official Twitter extension for Safari brings trending tweets to your webpage, and easily tweet about what you're reading with a quick link and URL shortener.
Woot Checker — Keep a constant eye on Woot with this extension, which notifies you when there's a new item up for grabs.
Delicious Safari — Quickly send links to your Delicious account.
See the rest of my picks when you read more.


Open in Papers — Browse web pages, articles, documents, and PDFs in an iTunes-like Coverflow way for easy reading.
Gmail Counter — This extension adds a button to your browser that shows how many unread emails you have in your Gmail inbox.
Translate — Instantly translate any webpage into your language of choice using Google Translate.
Awesome Screenshot — Capture, edit, and share screenshots from the web.
Bing Highlights — Get instant access to Bing's map, translate, shop, and search results just by highlighting text on a webpage and launching this extension.
Exposer — Get a visual preview of all of your open tabs.
AdBlock — Block all ads on webpages so you can stay focused on what you're reading.
SafariRestore — Finally, Safari can be automatically restored after a crash with this extension.
Add to Google Reader — A quick and easy way to add a website's feed to your Google Reader.
Download the latest version of Safari on Apple's website now.