The Best Scenes From The Avengers
Top 10 Thrilling 3D Moments in The Avengers
Avengers fans, rest assured, you have every reason to be excited for the film's release on Friday. The visual effects in The Avengers are absolutely stunning, and the 3D rendering draws you straight into the action.
With six superheroes to follow, the action scenes are diverse and gripping, with just the right amount of near-death drama to keep you on the edge of your seat. Explosions galore, flying contraptions, rad weaponry, and battles by air and by sea, there are plenty of jaw-dropping moments thanks to the mastery of Industrial Light & Magic's visual effects. Without giving away any pertinent plot details, here are 10 scenes that 3D and effects fans can look forward to.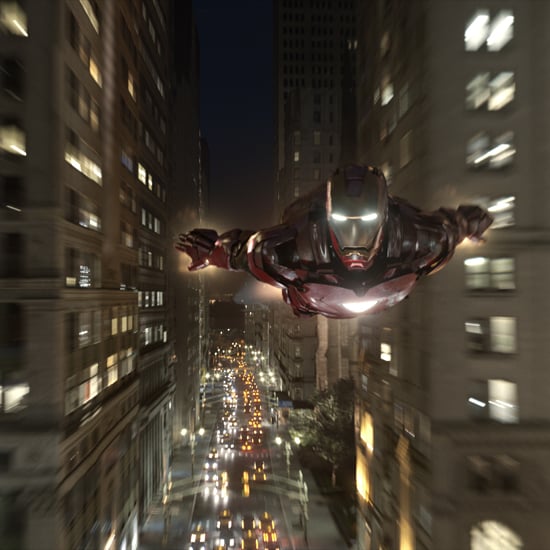 The massive security center that secures the tesseract cube implodes during a car chase. As tons of concrete rubble is sucked into the earth, its force nearly drags the cars down too.
The whopping 1,500-foot fleet carrier S.H.I.E.L.D. base transforms into a flying space ship. Just when you think it can't get any cooler, its reflective panels engage, making it disappear.
Thor and Iron Man (arguably the best-looking men on the team) duke it out in the woods, destroying a lot of trees in the meantime. I don't know what's more awesome: seeing Thor's thunderous strength match up against Iron Man's tech-savvy smarts, or the hilarious banter between the two.
It's the moment everyone is anticipating: when will Hulk emerge from Dr. Banner? When Dr. Banner's anger hits a climax, it only takes a few heavy, unnerving breaths before the Hulk roars his way into his monstrous size.
Trapped in a glass capsule, Thor clatters around violently as he plunges 30,000 feet into the Earth. The impact decimates the wilderness around him, yet Thor's quick recovery is glorious.
Click here to read about five more awesome scenes.
Tony Stark straps on two innocuous-looking metal bracelets. Little does Loki know that the bracelets are connected to Tony's Iron Man suit. When Tony free-falls hundreds of feet out of the Stark Tower, the Iron Man suit shoots out of his closet and latches onto Tony's body.
The tesseract cube creates portals to distant galaxies, prompting a bright blue laser beam to sear a hole in the sky.
The Chitari aliens engineer several flying reptiles that are about the size of New York City skyscrapers. These reptiles thrash their way through major avenues. However, the best battle scenes involve the Hulk, who has more anger and destructive determination than any old supernatural reptile.
Hawkeye's arrows can take out just about anything. For one crucial shot, the camera follows an arrow as it flies from Hawkeye's bow toward Loki, who is darting across the sky in his flying chariot.
Thor climbs atop the Chrysler Building like it's no big deal and transforms the pointed tip into a lightning rod. Take that, Chitari villains!
What scenes are you most excited for?
Photo courtesy of Walt Disney Studios