Best Text Message Apps and Funny Text Sites
Best Text Tribute Sites and Apps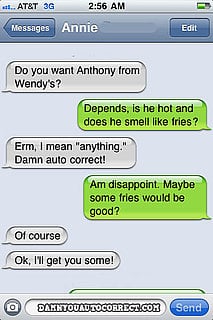 Text messaging may be efficient, but the beloved medium for chatter is ripe with social and communication dilemmas. If you're dating, we advise you to suck it up and call. If you're just keeping touch with pals and family, we say celebrate the LOLs and convenience. Here are some of our favorite text apps and sites for LOLs and useful text tips.
Damn You, Auto Correct is a hilarious compilation of autocorrected messages sent by users who have experienced major autocorrect FAILS.
Parents Shouldn't Text catalogs funny texts from (often well-intending) parents. One mother accidentally ruined her daughter's surprise proposal, and there are screenshots to prove it.
Keep reading for the rest of the list.
The aptly named Tiger Text is a free iPhone app that allows you to send text messages that delete themselves after a set period of time. To take advantage of this wonderful bit of technology (can you sense the sarcasm?), both users need to have an iPhone. When one party sends a text to the other, they're prompted to download the app, and the message is displayed.
Text messaging while driving is a big no-no, so what is a girl to do when she just has to send a text from behind the wheel? Now there's an app for your iPhone that will help you do just that without being thrown in the slammer. Called ShoutOut, this app dictates your speech to a text message, then sends it along to your chosen recipient.
It's very clear you (and your parents) would rather text than talk, but when you're on the road? That's a no-no. Instead of risking your life (and the lives of other motorists), try one of these texting apps that were made to help you kick the texting-while-driving habit to the curb just in time for April's National Distracted Driving Awareness Month. There's one for everyone — iPhone, BlackBerry, and Android owners unite!