Best iOS 7 Features
5 Ways iOS 7 Is the Apple Innovation You've Been Waiting For
While the iPhone 5S may not have been the groundbreaking phone techies hoped Apple would announce last week, a big change has arrived to its mobile ecosystem that'll make fans feel like they have a new device, whichever generation iPad or iPhone they're using: iOS 7. What's the big deal in the new mobile operating system? Here, the five updates you soon won't remember living without.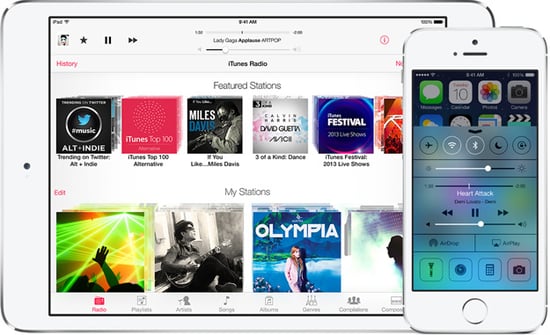 Multitasking, multitasking, multitasking! — Can you tell we're excited to finally multitask swipe between apps on an iPhone instead of going through the double-click Home button to find recent apps routine? What Android users have long held over iOS stalwarts is finally a reality for Apple devices. It's not true multiple-app view like Samsung's Galaxy S4 phone has, but quickly swiping through recent apps was at the top of iOS users' wish lists.
Camera — Filters is the name of the camera game with iOS 7. Pictures get Instagram ready before even leaving the app with a built-in square crop and all the vintage looks you might need to make that latte look old-timey.
Control Center — Again, something Android users had enjoyed, the Control Center of iOS 7 gives users access to phone settings, lock orientation, volume, and AirPlay settings. Swipe up from the bottom to change settings as well as screen brightness and music play.
Auto app update — Manually pressing Update in the App Store is downright primitive now that app updates auto push. Good-bye to the red notification bubble reminding you how many apps need attention.
AirDrop — Android has the bump to share. Apple would never make you bump anything; instead, mobile sharing is in the AirDrop. Like the original desktop version, share media instantly with nearby contacts, no phone-to-phone touching necessary.