Best iPhone Apps
Apps I Downloaded This Week, and Why You Should, Too
There's no shortage of apps in my iPhone — from games to productivity apps, I'm working at least four pages of folders — but this week has been especially busy for my App Store app. I asked you guys on Twitter which new game I should download, and while I was at it, found a few more I wanted to tell you about. Check them out below!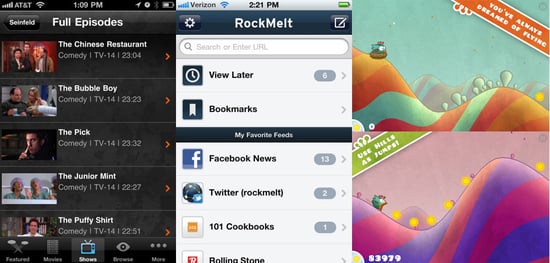 Crackle (Free) — Perfect for TV and movie junkies (including yours truly), Crackle streams full-length and unedited Sony Pictures films on your iPads, iPod Touches, and iPhones. You will have to sit through some ads (à la Hulu), but it's worth it to be able to watch movies and still pause, rewind, and resume where you last left off.
Rockmelt (Free) — The super social browser for your computer just got a smaller, more mobile version. Allowing you to surf the web, share links on Facebook and Twitter, post updates, and save items for later. If you do have RockMelt on your PC, your bookmarks and feeds will sync as well.
See the rest after the jump.
Tiny Wings ($1) — This one-touch game isn't just adorable, it's addictive. As the name implies, you're a bird with tiny wings, and since you can't fly, you have to ski down hills on your nest and fly as high as you can for as long as you can after picking up speed.
Bobsled (Free) — Brought to you by T-Mobile, this Facebook app allows you to make VoIP calls to your worldwide Facebook friends for free. Just download the app, and you'll be prompted to make voice calls by the little green phone symbol in your Facebook Chat box. So simple, and so handy.