Best iPhone Apps For Photos, Travel, and Productivity
Best 59 Apps to Improve Your Pics, Productivity, Travels, and Life
You know the joke: there's an app for that. It's funny cause it's true. The novelty options range from apps to help you through confession, apps to impress your dates, to those that could very well frighten your dates. If you're looking for practical support managing your daily life and organizational needs, turn to our best guides. We've weeded out the wild cards to serve up simple solutions. Time to warm up those fingers . . .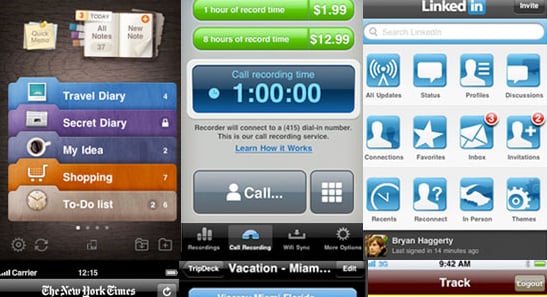 5 Must-Have iPhone Camera Apps — If you're looking to use it for more than remembering where you parked and goofy pics, invest in a few inexpensive apps to improve its functionality and enhance your pics. There are hundreds of choices available at the iTunes store, but here is a handful that you simply must have. Who can say no to improved pics for less than $10?
10 Best iPhone Apps For Work and Productivity — A smartphone (be it an iPhone, BlackBerry, Droid, or other) is arguably one of the most important business tools of the day. Aside from being a handy budget keeper, it can be an invaluable calendaring and life management tool and promises to streamline your organization if you know how to work it right. Stay on top of your game (and business) with these apps.
You can never have enough apps! Here are 44 more must haves.
15 Best Apps For Your New Verizon iPhone — You finally got your hands on the Verizon iPhone. Now it's time to load it up with helpful and fun apps! Sure, you could get in the iTunes store and just start hunting and pecking around for something good, but don't you want a friendly hand to guide you through your first batch of essentials? Though there are some cool and wildly amusing apps listed in the store, this list is reserved for the most handy and valuable ones to get you started.
19 Best Basic iPhone Apps For New iPhone Owners — So you got your first iPhone and you're overwhelmed by the App Store. I'm here to help you weed out the basics. Check through my list of basic, free iPhone apps, and get your download finger ready.
10 Best iPhone Apps For Travel — It's the middle of Winter, but that doesn't mean you can't start planning your Spring and Summer vacations. If you've got an iPhone, you have a world of apps at your fingertips to help you track, plan, and learn all you can about the locations you'll be visiting to ensure you have a well-rounded trip. Even if you're hitting the road now, you should definitely load up on these helpful apps.