Best iPhone News Apps
5 Must-Have Apps For Media Junkies
Extra, extra! Read all about it — right on your iPhone. The news cycle never stops, and we media junkies require a well-curated cocktail of mobile apps to keep on top of the latest breaking stories. Follow current events and developing stories with five of our must-have mobile apps for staying in the know.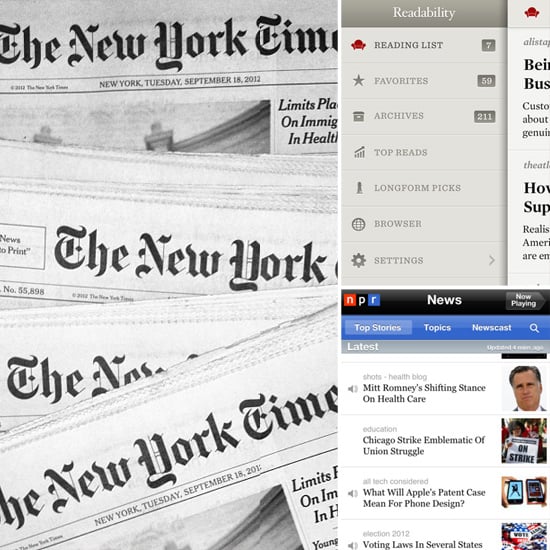 NPR News (free) — Catch the best of National Public Radio, like Planet Money, Wait Wait... Don't Tell Me!, and Fresh Air, on demand or on air. The app for iPhone, iPod touch, and iPad puts streams from local stations and top newscasts from across the network at your fingertips. You can even pick out individual stories by adding them to the in-app playlist.
Readability (free) — Readability takes away flashing ads and excess images from online articles by reformatting webpages into a clean, distraction-free layout. First, read or save articles on the web with the free Readability browser add-on. Those articles are then automatically synced to the iPhone and iPad app so that you can read anytime, anywhere.
Keep reading for more ways to keep up on the news.
Reeder ($3) — RSS junkie, meet your new partner in crime. Google Reader is the best RSS feed aggregator there is, but it's not always the nicest to look at. Reeder is a desktop and mobile app that makes managing both Readability and Google Reader queues much easier. The mobile app uses gesture functionality to swipe between articles, and Reeder offers built-in sharing with social tools like Evernote, Facebook, Readability, and Twitter.
Feedly (free) — Speaking of Google Reader, this RSS aggregator app displays your subscriptions into a beautiful, magazine-like format. Bold colors and large images make this app easy on the eyes.
Newsify ($1) — But if you'd rather see your RSS feed in the medium of yesteryear, try Newsify, which is a Google Reader client that arranges your articles like a newspaper, with a hierarchy of feature stories at the top, breaking news in the middle, and smaller items at the bottom.
What media apps do you use to digest your news diet?