If you're using only the native camera app in your iPhone or iPad, then you haven't unlocked the gadget's full photographic potential. From photography tutorials to magic retouching tools, we've gathered 31 photo apps you need on your iOS device. Many of these apps can be downloaded for less than the cost of a morning coffee and will have you operating at a nearly professional level, even if you're just sharing the memories on Facebook.
Source: Facebook user RookieHD [1]
Rookie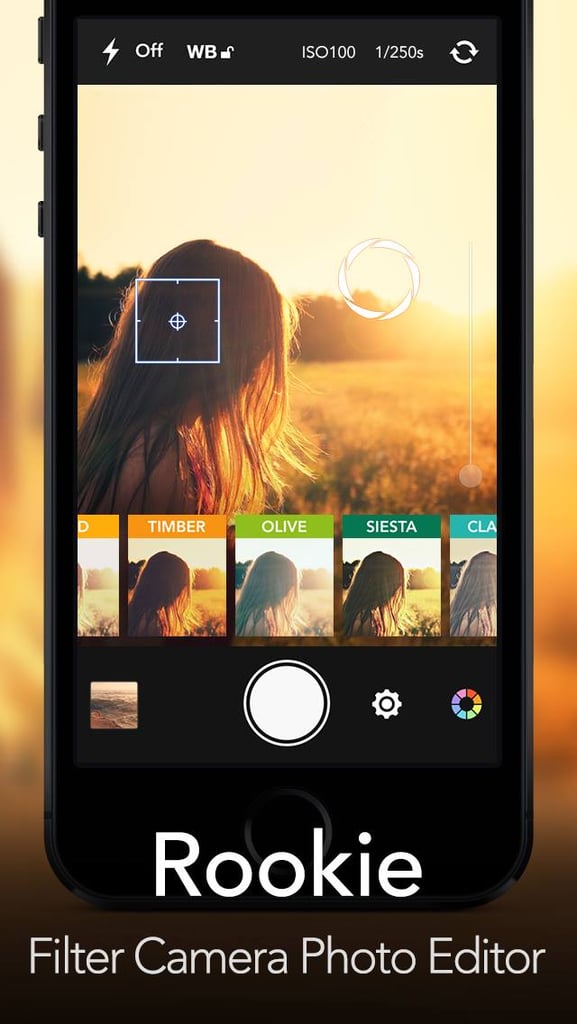 Rookie [2] (free) is perfect for beginners. Use Rookie's built-in camera instead of the default Camera app to access granular controls for white balance, ISO, and shutter speed. There are guides to help you find the perfect composition, too. Once you've snapped a photo, Rookie offers advanced editing tools like color temperature and tint as well as fonts, badges, stickers, and frames.
DMD Panorama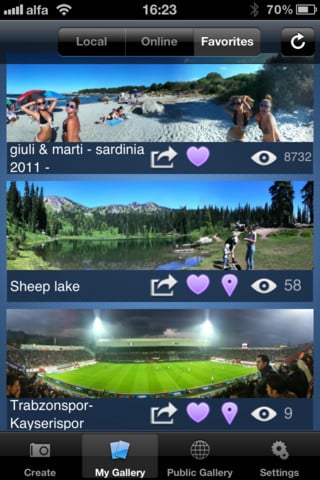 The extra social features of DMD Panorama [3] ($2) make it stand out from the crowd. See where others have taken panoramic shots nearby, and share the finished product with friends as an immersive 3D viewer.
Hipstamatic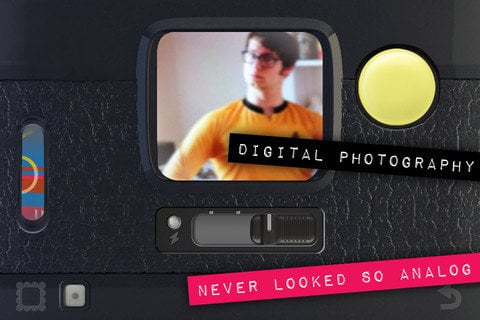 The hip choice for filtered pics, Hipstamatic [4] ($2) brings digital photography back to an analog state of mind. Choose from a number of built-in features, or purchase your faves in the in-app filter store.
LensLight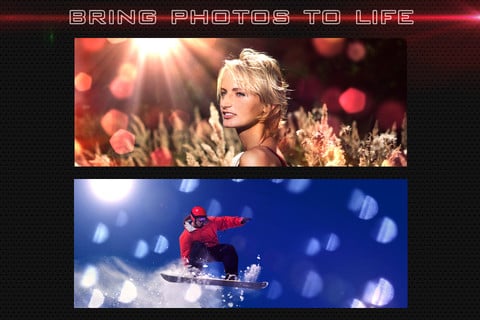 Simple and user-friendly, LensLight [5] ($2) offers customizable lighting effects, as seen above. Add multicolored spotlights, glints, light leaks, or bokeh to boost your standard snaps.
Sun Seeker: 3D Augmented Reality Viewer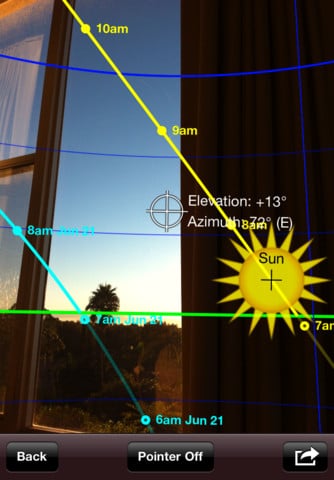 Sun Seeker [6] ($7) helps you find where the sun is (or will be) with the help of augmented reality — great for landscape photos.
360 Panorama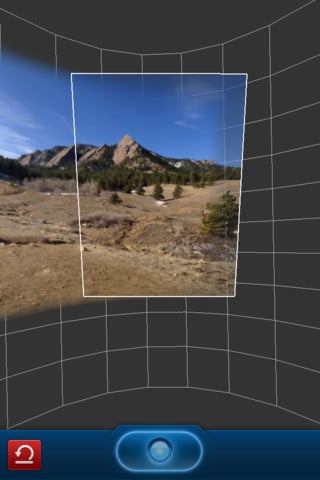 In addition to quickly stitching photos, 360 Panorama [7] ($1) automatically uploads photos into your personal account on the 360 Panorama website, making them accessible anywhere, anytime.
Easy Release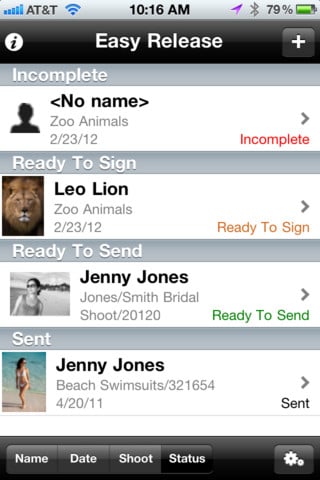 A good resource for those using models, Easy Release [8] ($10) allows subjects to sign a release form on your iPhone or iPad.
InstaFlash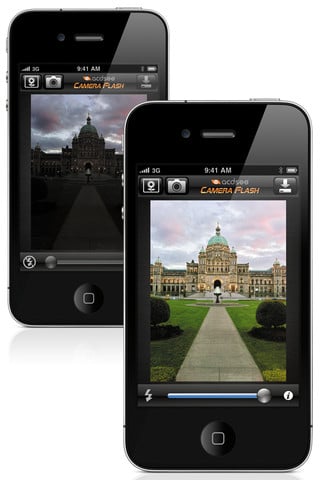 Use InstaFlash [9] ($2) to bring out details in underexposed images.
iPhoto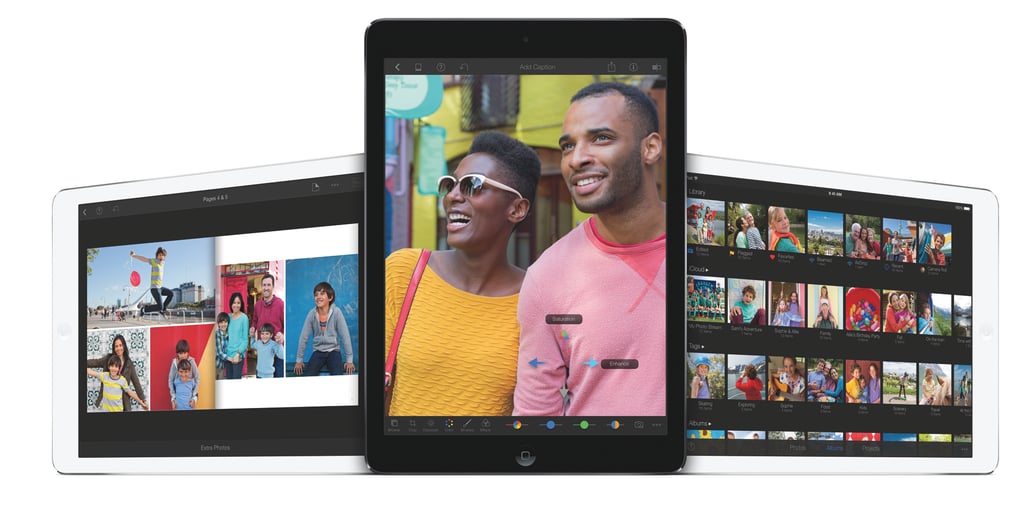 Since you're taking most of your photos on an iPhone these days, Apple is making sure you have the same editing experience on the go as you would when sitting down to desktop iPhoto — with some multitouch enhancements. Gestures do all the work in the new iPhoto [10] (free with any new iOS device); just touch the specific part of the photo you want to enhance. Slide color contrasts up, pinch-zoom to focus on friends, or get artsy with the brush tool, and paint away harsh lighting. You can also flag images for side-by-side comparison before deciding which photo makes the cut. Dozens of effects are included as swatch books to create black-and-white, vintage, watercolor, and tilt-shift images. Share the final photo product with friends across social networks, between iPhone and iPad, to the new Apple TV, or as photo journals, all customized within iPhoto itself.
Color Splash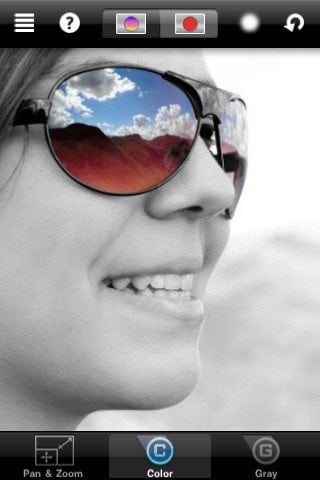 Taking a step away from photo filters, Color Splash [11] ($1) allows you to color in (or take away color for) areas on your snapped image. The result is a unique perspective on an otherwise run-of-the-mill photo.
Diptic
Let your images tell a more in-depth story with Diptic [12] ($1), which allows you to group your images together in a plethora of different editorial-style layouts. Adjustments and editing tools help you perfect your look.
Camera+
For more serious control of your images, there's Camera+ [13] ($2), which provides filters, editing tools, touch exposure and focus, adjustments, and stabilizers to help make every photo look like it came out of a high-end DSLR.
AutoStitch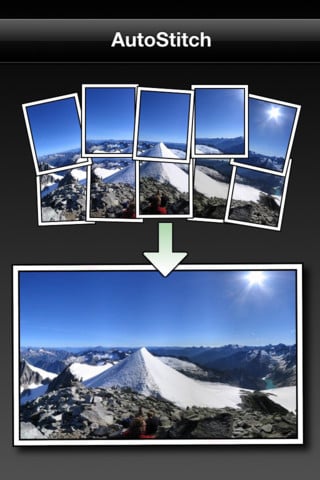 Using the traditional format of snapping multiple photos of a space — rather than the gyroscope setting used in the below three apps — allows AutoStitch [14] ($2) to create hi-res images up to 18 MP. Stitch up to 40 images together for a stunning final panorama.
Magic Hour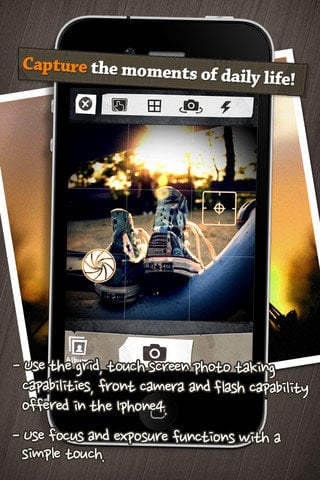 Magic Hour [15] ($2) is a lesser-known filter app but is one that deserves its moment in the spotlight. Magic Hour doesn't just provide a set number of filters — there's a large marketplace of custom and unique apps to choose from, built by the Magic Hour community. Browse through, and you're sure to find one that will make all those other filter-app users sit up and take notice.
FolioBook Photo Portfolio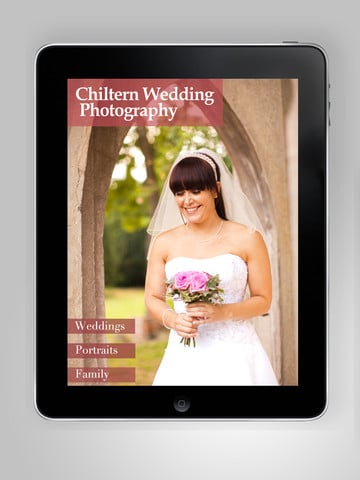 FolioBook [16] ($13) offers a beautiful portfolio for photographers to show off their work to potential clients on the go.
Photogene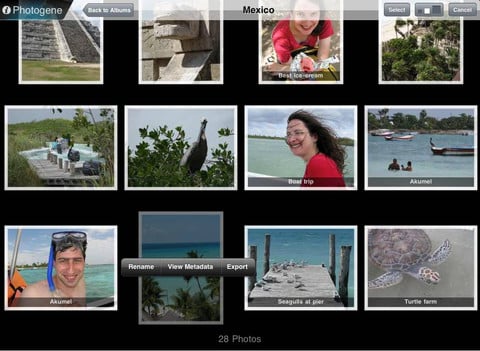 Photogene [17] ($3) is a nondestructive Lightroom replacement for your iPad.
PhotoSync
PhotoSync [18] ($3) wirelessly transfers your photos from your mobile device (iPhone or iPad) to your desktop, from iOS to iOS device, and even directly to your online Dropbox — probably a life-changer.
Bokeh Booth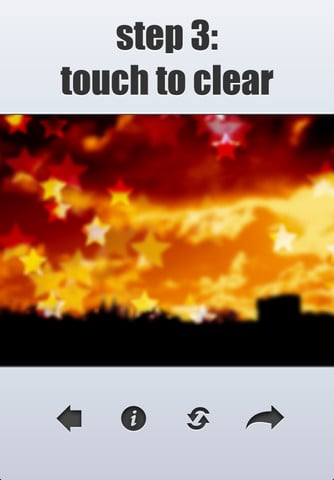 This basic, straightforward app is all about adding bokeh to your photos. It's best to do more complex editing with another app then use Bokeh Booth [19] ($1) to choose between hearts, stars, or basic circles for your bokeh shapes.
MoreBeauté2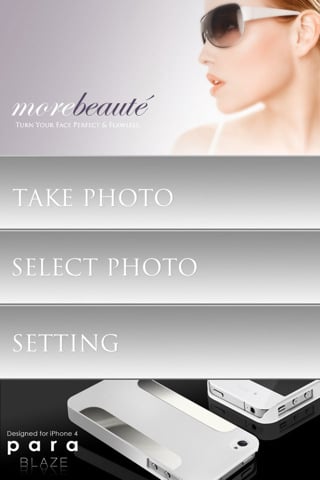 MoreBeauté2 [20] (free) smooths out the skin in portraits, giving your subjects a "model-like" glow.
TouchRetouch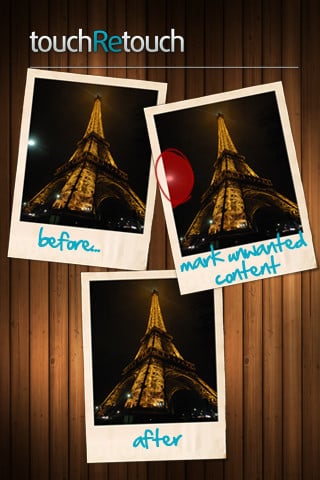 TouchRetouch [21] ($1) lets you delete objects from an image with crazy ease, kind of like the magic wand tool and clone tool in one.
PictureShow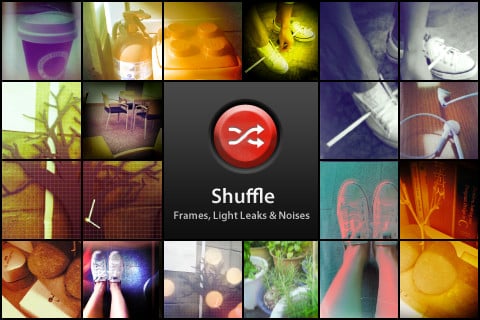 The options seem endless in PictureShow [22] ($2): 45 preset styles, 23 frames, plus 10 light leak choices and 13 noise effects. There are five different lens choices. You can save a custom style for quick photo application, and messages can be added onto photos. Another bonus? A timer, so you can take your time to pose or frame shots.
NewsBooth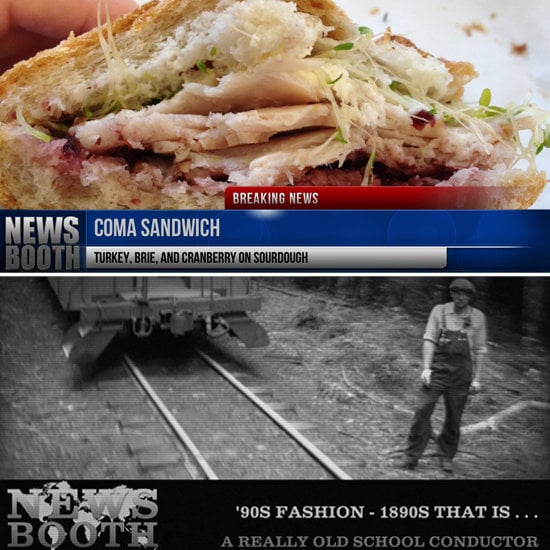 Treat your daily photo captures like the breaking news they are with the News Booth app [23] (free). It's simple to create your own breaking news template: choose an existing photo on your phone or take a new one, crop it to fit the NewsBooth template, add your own headline, and then opt to share it on Facebook or Twitter.
Kinotopic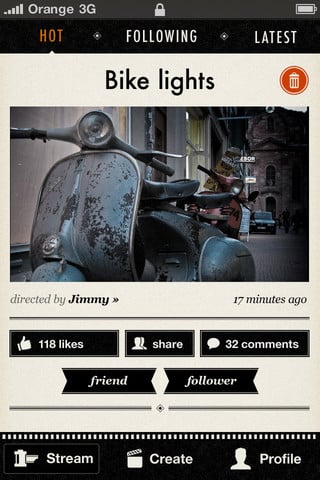 For mobile photographer pros looking to move beyond the looping whimsy of goofy GIFs, the Kinotopic iOS app [24] (free) is a take on the animated photo. The style of "not quite a photo but not a video" was first made popular on the Cinemagraph website, for the photographers' blend of gorgeous moments captured in traditional still photo with a hidden animated twist that pulls the viewer further into the image.
1-Bit Camera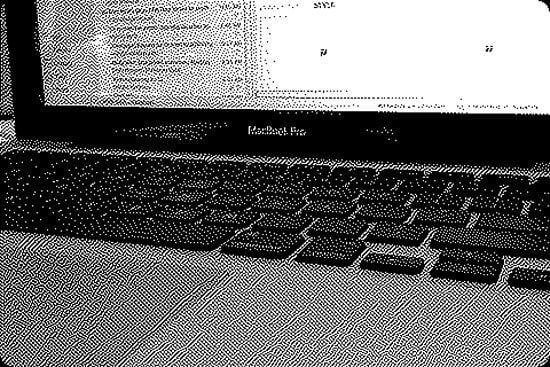 If you've also got a soft spot for all things retro, there's 1-Bit Camera [25] ($1). This app, which looks like it stepped out of an '80s-era Mac, snaps your pics in brilliant lo-fi quality and allows you to send them straight to Facebook, Twitter, and Tumblr for sharing. There's even a high/low contrast tool to really punch things up, but spoiler — in true retro style, the contrast isn't that amazing. Naturally.
Picfx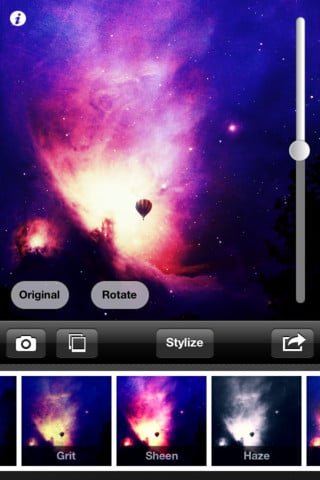 With 47 different effect and frame alternatives, 13 style choices, and an option to layer different looks, Picfx [26] ($2) offers a wide range of photography possibilities. Even better? An opacity slider allows you to control the strength of each effect.
Master Your DSLR Camera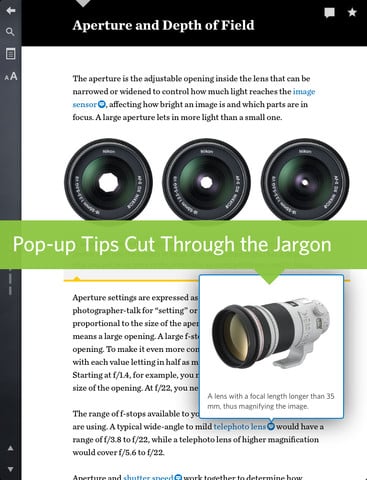 Between aperture, shutter speed, and ISO setting, capturing the perfect picture with a DSLR outside the automatic setting is a challenge. Enter the Master Your DSLR Camera iPad app [27] ($5). It may cost a bit more than your typical tablet app, but think of your sense of accomplishment when you can actually wield that SLR camera like a pro. The slideshows, guided tours, and list of common photography scenarios ensure you'll retain the how-tos, unlike trying to follow complicated technical jargon.
Photo Makeover
An app for portraits, use Photo Makeover [28] ($1) to select features (like nose, mouth, and eyes) and manipulate them in real time. It makes features bigger, wider, or smaller using pinch and zoom.
Instagram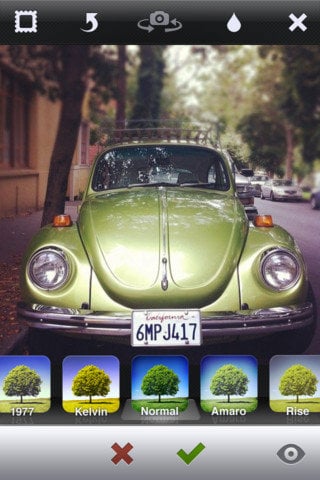 Instagram [29] (free) has taken the world by storm, and it doesn't seem as though it's popularity is going anywhere. Beautiful and free filters, easy uploading, and a huge community make this a must-have app on your iOS, Android, or Windows device.
Snapseed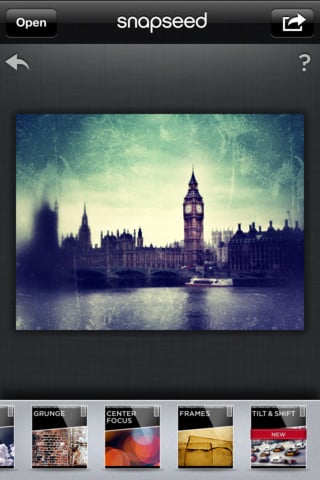 Snapseed [30] (free) has won Apple's App of the Year because of its variety of filters, edit tools, and selective adjust tools like edge detection, which applies changes to objects within the perimeter.
Cinemagram
Cinemagraphs are more than just GIFs; they're a stunning blend of image and movement. Make them with apps like Cinemagram [31] (free), which comes with some cool features to make awesome Cinemagraphs on the go. Unlike with other apps, you can pinch and zoom to select the area to animate (which helps keep the animation clean and precise), and you can add filters — like Xpro and vintage — to give your Cinemagraph a hip tone and feel.
iDarkroom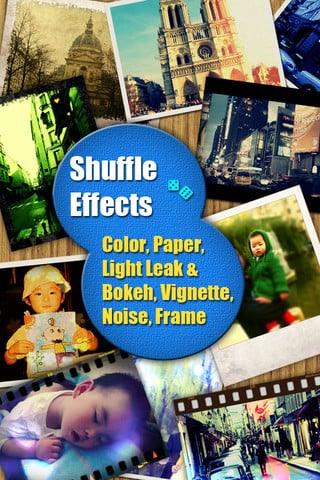 Thanks to 12 light leak and bokeh effects, iDarkroom [32] ($1) is a great option for those who love to play around with lighting. The app allows you to adjust saturation, contrast, and brightness, and 10 film paper effects offer a unique way to filter photos.