Better Batman Than Ben Affleck Tweets
6 Fictional Characters the Internet Wants to Make a Better Batman
The Internet's in a glass case of emotion with the news that Warner Bros. cast Ben Affleck as Batman in Zack Snyder's Man of Steel sequel that pits Henry Cavill's Superman against the Dark Knight. After the film, set for a 2015 release, was confirmed at Comic-Con, geeks have been on the edge of their bat-seats waiting for casting news for this new Batman intended to take place in a different universe than the aloof, gravelly Caped Crusader of Christian Bale's trilogy. Now, fans across the web don't seem to know how to react. Can Ben be forgiven for the superhero movie many tried to forget, Daredevil?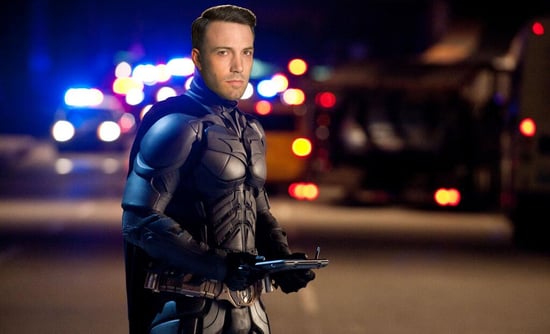 Of course, those on social media have plenty of insight, with #BetterBatmanThanBenAffleck trending across Twitter on Friday. While plenty of people have ideas on which actor should be playing Batman — what role isn't Meryl the right choice for? — it's the fictional characters that have popped up in the very active hashtag that have us dreaming of an alternate universe to this already alternate universe where literary and cinematic creations get fitted for the batsuit.
Harry did learn a lot about justice at Hogwarts.
#BetterBatmanThanBenAffleck pic.twitter.com/HAdmDsJycR

— Harry Potter HQ (@HarryPotterHQ) August 23, 2013
Minions are so hot right now.
let's be honest here #BetterBatmanThanBenAffleck pic.twitter.com/IHHtVUtO36

— Minion (@TypicalMinions) August 23, 2013
Abed does do a mean Christian Bale-as-Batman impersonation.
Ben Affleck as Batman? WRONG. Abed is Batman always. #Community pic.twitter.com/QulF8iqwsM

— Community (@nbccommunity) August 23, 2013
There's a reason The Big Bang Theory's one of the most popular sitcoms currently.
#betterbatmanthanbenaffleck Sheldon obviously. pic.twitter.com/9xvrIOey6E

— Snorlax (@B0romir) August 23, 2013
Capture Superman in a Poké Ball!
#BetterBatmanThanBenAffleck pic.twitter.com/aOKIdp0R27

— Pokemon Parody (@Pokemon_Parody) August 23, 2013
Hey, some people just really miss Fez.
#BetterBatmanThanBenAffleck Fez! pic.twitter.com/MmBQmy9Zqc

— J-Roc (@LoganFitzmo) August 23, 2013