Beyonce Baby Bump Sets Twitter Record
Beyoncé Baby Bump Reveal Scores Record Tweets For Twitter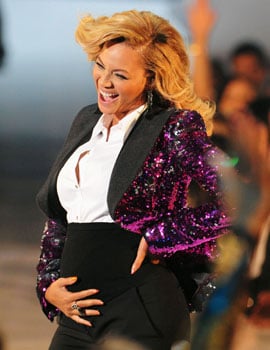 Music fans around the world gathered around their TVs last night during the MTV VMA awards, but it was a single belly rub that caused Twitter to get all-aflutter.
As Beyoncé finished up her amazing performance of "Love on Top" and showed off her baby bump, essentially announcing her pregnancy to the world, Twitter experienced a bump of its own: a record 8,868 tweets per second were sent on the network, which is more than the recent East coast earthquake, the women's World Cup soccer final, and even the death of Osama bin Laden.
It's hard not to feel happy for Beyoncé and Jay-Z, especially after Jay's reaction to Beyoncé on stage — so adorable!