Biggest Mobile Etiquette Annoyances
How Are Your Mobile Manners? Not Good, Says Intel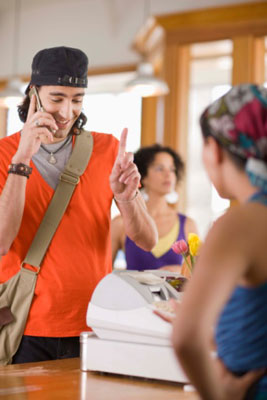 Internet etiquette has been a hot topic around these parts for a while, but it seems that the majority of Americans' mobile manners are getting worse. Texting while sexing may be the most heinous mobile etiquette offender, but people are breaking manner rules left and right while out in public as well.
A new study by Intel reveals that keeping your phone handy while at the dinner table may not be the biggest pet peeve. According to the report, 73 percent of respondents say that using a mobile device while driving is not only dangerous (and illegal in some states), but it also happens to be the biggest annoyance.
Find out what other mobile habits make people cringe after the break.
Sixty-five percent of Americans say that talking loudly in a public place is cringe-worthy, while 28 percent say that using a mobile device while walking is their biggest peeve. I admit to committing a few of these mobile etiquette crimes myself, but I try to be as conscious as possible of the people around me.
What about you — do these crimes of mobile etiquette drive you nuts? What other cell phone habits irritate you? Let us know in the comments, or in our Cell Phone Rant group!