Bill Gates Talks About Twitter and Blogging, Loves Diet Coke
Bill Gates Chats About Online Presence, Loves Diet Coke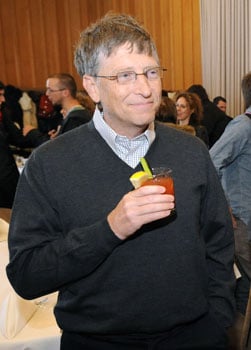 Despite the fact that Bill Gates can't use Facebook, he was able to join Twitter last week, and start his own blog to highlight the work he's been doing with the Bill and Melinda Gates Foundation since stepping down as CEO of Microsoft. As you can imagine, his Twitter account blew up faster than a suggested user list, and is now followed by over 300,000 people. Between his busy tweeting and blogging schedule, Bill sat down for an interview with CNET to talk about his new online presence, saying that tweeting will "keep me up to date."
I have a hard time believing that a guy who has such a great influence on our culture wouldn't somehow be kept in the loop on the newest forms of tech and social media, but one thing I learned (and can totally relate to), is this guy loves his Diet Coke. So much so, that he just had to crack one open in the middle of the segment. So long, Mountain Dew! DC is now the drink of choice for geeks everywhere.
To see Bill Gates talking about Twitter, his blog, and enjoying his Diet Coke, just
.