Bill Nye New Science Show
Bill Nye the Science Guy Is BACK!
The evangelist of all things physics, biology, chemistry, and more — the same man that popularized science education on TV and opened our childhood eyes to the inner workings of the world — has returned! Bill Nye, after a brief stint with Dancing With the Stars is returning to screens as the host of Why With Nye, a new web series about NASA's New Frontiers mission to Jupiter, presented by THINKR.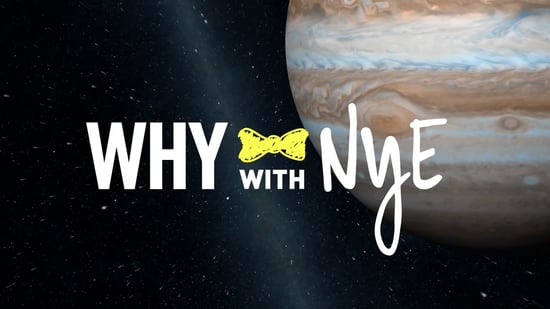 In the inaugural episode, Bill asks, "Is Jupiter Like a Piece of the Sun?" The Red Planet and the glowing orb at the center of our sky have a lot in common — and yet, they look and behave nothing alike.
Each episode dives into a different aspect of Jupiter and why NASA is so interested in visiting and investing in the planet. Seeing as our space administration is currently shutdown, free public science education by way of Bill Nye has never been more needed.
With its cheerful background music, spunky animations, and silly sound effects, Why With Nye has us nostalgic for the old show, which went off the air in 1998 and celebrated its 20th anniversary this year.
Get to know the man behind the bow tie a little better (did you know Bill's the son of a sundial legend?), and watch the latest episode of Why With Nye after the break!