Bing Maps Gets Transit Directions
Transit Directions Come to Bing Maps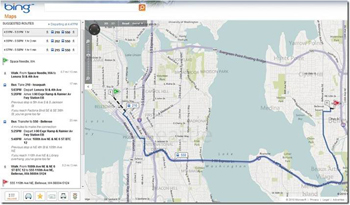 Bing Maps isn't quite a year old, but it's taking fast steps to catch up with industry-leading Google Maps. Today, Microsoft announced the addition of transit directions to 11 US cities including New York, Boston, Chicago, and San Francisco, with plans to rapidly expand coverage. In addition to providing several different transit options for a trip (when applicable), Bing also adds details like scheduled stop and travel times. Find out what else is coming in Bing Maps after the break.
Additionally, Bing has improved business and landmark details in its maps function, including hours of operation and other nearby businesses or landmarks.
While Bing has a lot of ground to cover if it wants to compete with Google's 446-plus worldwide cities with transit directions, the relatively new search engine is growing rapidly, having just surpassed Yahoo to become the second most popular search engine.