Bing Mobile Deals Site
Bing Debuts New Deals Aggregator For Mobile Devices
Bing just released a video detailing new mobile deals program, which is available on an HTML5-enabled mobile device. The platform aggregates deals and offers for over 200 different providers. (Speaking of amazing deals, have you checked out the new PopSugar City?)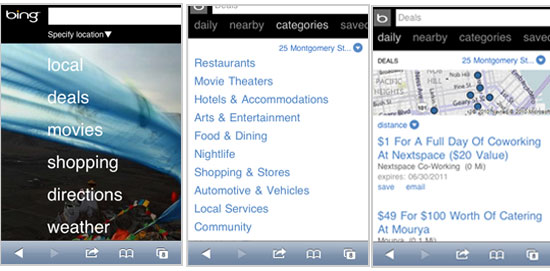 Learn more about it after the break.
To search deals in your area, visit m.bing.com on your mobile device. Then choose "deals" from the menu, which will take you directly to the most valuable offers — typically those offering discounts of 50 percent or more. Bing uses your location data to show you deals in your area; narrow them by categories, including restaurants, hotels, nightlife, shopping, and more. You can even choose to save deals to view later in a special "Saved" category.
When you're out and about, the "nearby" link will show you deals on a map relative to your location. Clicking on a deal displays more details, and quick links to save, email, or go directly to the site offering the deal or promotion. Restrictions and business information are also listed on the page.