Black Eyed Peas Live
5 Reasons Geeks Should See the Black Eyed Peas Live
It's not often that you're treated to a backstage tour during a Black Eyed Peas show, but that's exactly what I got when BlackBerry chauffered me down to San Jose on Friday to catch the band live. I didn't know what I was in for (besides lots of screaming fans), but I definitely got more than I expected. Who knew I'd be geeking out the entire 90 minutes!? Not only because the Black Eyed Peas put on quite a show, but they also cater to generation geek.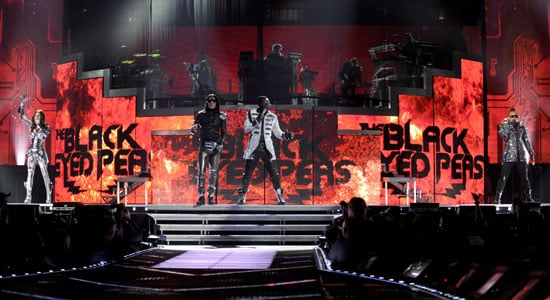 Will.i.Am let his geek flag fly by giving Twitter and Google a few shout-outs during the show, and he even said he wants to live right here in the Silicon Valley! We'd be happy to host you, sir. Find out the top five reasons every geek should see the Black Eyed Peas live, and see some pics from the show after the break.
The costumes! — Not only were the Peas' costumes super-futuristic, but their backup dancers looked like something out of Star Wars and a video game!
The props! — Taboo came flying out on a lit-up Tron bike, while Will.i.Am. DJ'd for the crowd in an Iron Man-esque costume, complete with an arc reactor on his belt!
The lights! — Lasers, LED screens, and pinball-like lighting on the stage floor made for a very futuristic (and geeky) light show. Not to mention the huge arc reactor at the top of the stage!
The music! — With nods to space, the future, robots, and geek culture, the Black Eyed Peas (as well as their opener, LMFAO) know how to party with tech!
The extras! — During the show, Will.i.Am does a bit of freestyling, and uses BBMs sent to him by the audience to work into his rap. Although the screen showing all the BBMs was down during our show, his freestyle skills were totally sick.