Black Friday Cyber Monday Shopping Tip
Reminder: Triple-Check Return Policies Before You Buy!
Holiday shopping is kicking into full swing this week, and with so many retailers offering Black Friday and Cyber Monday deals, getting swept up in the shopping fun is easy.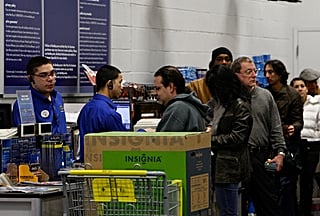 But before you check out or click Purchase, be sure to make sure you understand the return policy for your item.
Many stores, including tech giant Best Buy, implement special holiday return policies. Instead of Best Buy's standard 14-day return policy, for example, items purchased after Nov. 1 are returnable through January 31. BUT, this does not include computers, monitors, projectors, camcorders, digital cameras, and radar detectors, which are subject to the same 14-day return policy as always. Find out about Target's holiday return policy after the break.
And while Target has a liberal 90-day return policy, many tech items (including camcorders, digital cameras, portable DVD players, and portable electronics) are subject to a 15-percent restocking fee.
Whether you're shopping online or in an actual brick and mortar store; and whether the item is for your or you're purchasing it as a gift, be sure to hold onto the receipt (or gift receipt) in a safe place to ensure an easy return.