Black Friday Tech Deals 2012
The Best of Black Friday's Tech Deals
Oh, hello, Thanksgiving week, you've seemed to arrive so early this year! While we're planning the details for the big day, retailers are stocking shelves in preparation for the shopping madness that is Black Friday. If you're headed out in search of electronics deals this week, take a look at our highlights of the big-box retailers' tech sales.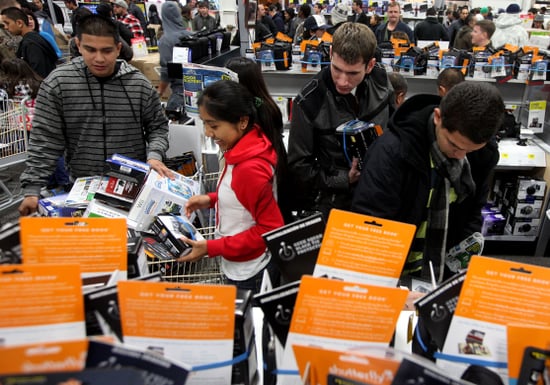 Target
Stores open Thanksgiving Day at 9 p.m.
Ereading has never been so accessible with the Nook Simple Touch; originally $100, it's on sale for $49.
Receive 50 percent off the Apex 32-inch LCD HDTV (originally $250), which will be $147 at checkout. The 50-inch Westinghouse 1080p LCD HDTV (originally $600) is listed as a special purchase at $349.
The Canon T3 SLR Bundle (originally $750), which comes with the EOS Rebel T3 body, telephoto zoom lens, gadget bag, and a 4GB SD card, will be marked down to $500.
You won't have a dull moment this holiday season with a 4GB Xbox 360 Bundle (originally $299) complete with the Xbox 360 Gaming System, Kinect, one wireless controller, and two games — Kinect Adventures! and Disney Adventures — for $200. A special 250GB PlayStation 4 bundle (originally $270) with the console, two games, and one wireless controller will be offered for $200.
When you buy any iPad, get a free $60 Target gift card. Pick up a 16GB Apple iPod touch ($195) and receive a free $40 Target gift card with your purchase. A 16GB iPod nano ($149) earns buyers a $20 gift card. Buy the iPhone 4S for Virgin Mobile with no contract ($499) and get a $100 Target gift card in return.
See what Best Buy, Walmart, and Kmart are discounting after the break.
Best Buy
Doors open Thanksgiving Day (er, Friday) at midnight.
Samsung's 15.6-inch laptop with 4GB memory and 500GB hard drive ($350, originally $574) is a bundle deal: Webroot Security software, neoprene sleeve, wireless mouse, and 8GB flash drive are also included.
Save big on the Toshiba 40-inch LCD HDTV (originally $420), which goes on sale for $180. The 32-inch Panasonic 720p HDTV will be $190 on Black Friday (originally $300).
Samsung Galaxy Tab 2 with 8GB memory in white is now $180 and comes with a $20 Best Buy gift card with purchase (originally $250).
Sony's 250GB PlayStation 3 will be bundled with a DualShock Wireless Controller, Uncharted Greatest Hits Dual Pack, and the inFamous Collection for $200 (originally $300 for just the console).
The Nikon Coolpix S9050 is 50 percent off at $130 (originally $260).
Walmart
Walmart's Black Friday sales come in three phases this year, with the first starting Thanksgiving Day at 8 p.m.
Buy a 16GB WiFi iPad 2 for $399 and get a $75 Walmart gift card.
Nikon has multiple cameras on sale at Walmart's Black Friday weekend, first of which is the J1 Digital Camera ($399) with 1080p video recording and a three-inch touchscreen back. If an SLR is more your speed, the 10.2MP D3000 Digital Camera with 18-55mm lens kit will be $449.
The Xbox 360 and wireless controller bundled with a Skylanders Adventure Starter Pack is $149. Or online, choose the Xbox 360 value bundle including Kinect for $249 along with the choice of two value (meaning, not Halo 4) games.
The Nook 8GB tablet is $100 starting Thanksgiving Day at 10 p.m.
Samsung is representing big with a collection including a 32-inch HDTV ($248, $50 off), 43-inch Plasma HDTV ($378), 46-inch Smart LED HDTV ($598, $200 off), 50-inch LED 1080p HDTV ($698), and 51-inch Plasma HDTV ($478, $50 off).
Kmart
This retailer has one of the earliest starts on the sales, opening doors at 6 a.m. on Thanksgiving Day, and new groups of sales appearing through Friday.
RCA's 42-inch plasma is marked down to $200 (originally $450) early Thursday, while a 40-inch Toshiba HDTV is $380 (originally $500), and the 32-inch Toshiba HDTV is $250 (originally $280).
For Windows 8 fans, Asus's X401A 14-inch laptop with 3GB ram and 320 GB hard drive is $220 (originally $370). HP's 15-inch g6 Pavilion Windows 8 laptop is $300 (originally $500).
Canon's PowerShot A2300 digital camera with 5X optical zoom and HD video is $80 (originally $140) and comes with a free 8GB SD card.
Save $100 on an Xbox 360 bundle with Kinect for $200.
Samsung's Galaxy Prevail no-contract phone from Boost Mobile is on sale for $30 (originally $100).