BlackBerry App World Gets a Reboot, Now Takes Credit Cards
With over 1 million applications being downloaded every day, it's no surprise that RIM would want to give its highly trafficked BlackBerry App World an overhaul. Although the design will look familiar, it's the tools that have been given a fresh reboot.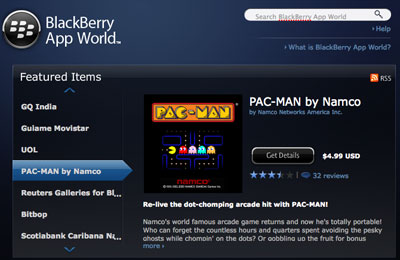 For example, BlackBerry App World now accepts Visa and Mastercard for app purchases, along with the original payment system on PayPal. This opens up a whole new, ahem, "world" for BlackBerry users who don't have a PayPal account to load up on apps.
But that isn't the only change in the BB App World. Hear about the other revisions after the jump.
Search has been enhanced in the App World, which will allow you to hunt down and find the apps you want more efficiently. Additionally, you'll be able to discover new apps with categories like "Top 25 Free Apps," "Newest Apps," and, most helpful, "Recently Updated Apps." Finally, each BlackBerry user will be assigned a unique BlackBerry ID that will store all of their credit card information and carrier billing and will travel with you if you switch out last year's clunker for the newest BlackBerry on the market. I've been known to do just that on several occasions. Don't judge.