BlackBerry Apps, Tips, and Tricks
5 BlackBerry Apps You Need Now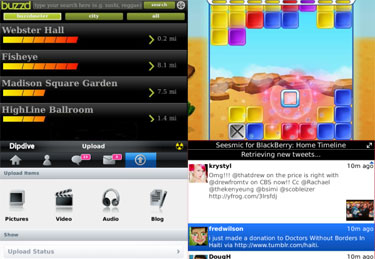 Yesterday, I attended a BlackBerry showcase that featured some cool new apps that are coming to, or that are already up and running in the BlackBerry App World. I was pretty excited to learn about some fun, functional, and helpful apps for BlackBerry users, especially since there are currently over 40 million of you out there in the wild right now! Here, you'll find my five favorite apps that I think are worthy of a download.
Seesmic — This free app acts as your Twitter hub, but there's more to come soon — Seesmic is integrating Facebook and LinkedIn feeds so you can get all of your social networking updates in one place. Its desktop and web apps are just as awesome for organization and productivity.
Buzzd — This free app consolidates all your geo-location and social network updates from Foursquare, Gowalla, Twitter, Facebook, and more and tells you which places in your city are "buzzing" right now. Want to be where the action is? Then check up on Buzzd before you head out.
See a few more after the break.
Bit Bop — Coming soon to your Blackberry: TV shows! With a BitBop membership ($10 a month) and the accompanying app, watch your favorite shows — like 30 Rock and Glee — right on your phone. Just manage your TV show queue from your PC or Mac, then stream those shows on your BlackBerry, or download them to watch later. Kind of like Hulu, but without all the messy video formatting issues.
DipDive — Get the artist-curated content from DipDive's website delivered right to your phone with this free app.
GameHouse Games — Coming with an impressive roster of games in the BlackBerry App World store, I got a chance to check out COLLAPSE! ($7) and an Eclipse memory game just in time for the release next week!