The BlackBerry PlayBook just got a $150 price cut — you can now grab the 64GB PlayBook for $550 at Best Buy. While you may have your eye on the iPad 2 (or even waiting for the next gen Apple tablet to hit the scene), there are a few good reasons why you might want to get on the BlackBerry train (even if you're not a BlackBerry smartphone user), especially now that the price is right.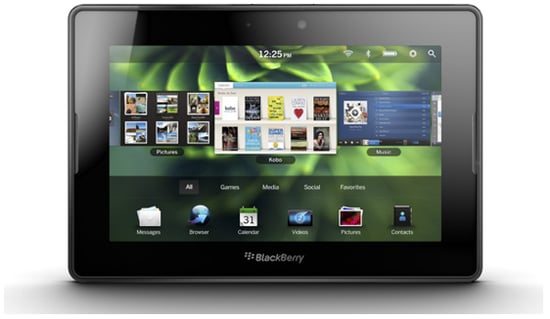 Web browsing is amazing — You'd be surprised at how easily the BlackBerry Playbook surfs the web. It's got Adobe Flash built-in, which means you can visit any 'ole website any time you want.
It's comfy to hold — Don't discount the PlayBook for it's small stature. The 7-inch tablet is the perfect size for holding in your hands and still being able to type with your thumbs. It's not too heavy, and it's nice to touch too, since the soft touch matte backing keeps it from slipping out of your hands. Plus, you can pack it along anywhere.
It's great for games — For what it's worth, gaming on the PlayBook is awesome. With the built-in gyroscope and accelerometer, you can play your favorite racing games (Need For Speed!) with movement instead of a controller, and it's super responsive.
It's packing heat under the hood — The BlackBerry Playbook comes with a 1Ghz dual core processor and 1GB of RAM, which means it can handle multitasking like a champ. I've had several apps going at once (a video game, web browser, a video), and the PlayBook handled it like it was no problem. Best part is, multitasking is all happening in real time, so if you switch from a video to the web browser, you'll still see the video playing when you minimize the player. That's crazy! There's dual cameras on board — a 5MP rear-facing, and 3MP forward-facing — so whether you're taking a picture of something that caught your eye or video conferencing, things will be crisp and clear. Plus, sound quality is excellent, too.
There's plenty of apps to keep you satisfied — From Facebook to Twitter, LinkedIn, and YouTube, the BlackBerry App world is stocked with social and productivity apps that you'll actually use, not just buy and forget a few days later.
Do you have a BlackBerry Playbook? Tell me what you love about it in the comments!