BlackBerry Style Smartphone
New BlackBerry Style Heading to Sprint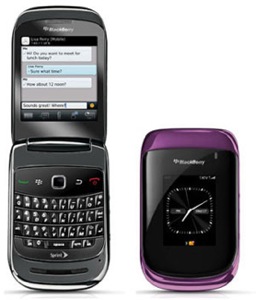 I've been pretty impressed with the much-improved BlackBerry 6.0 operating system, especially its fun music and video features. If you are, too, and interested in getting your hands on it (but don't want to give up your portable clamshell phone for a candybar device), then today is your day. Well actually, Oct. 31 is your day.
Announced this morning, the BlackBerry Style 9670 is heading to Sprint at the end of this month, bringing along OS 6.0 and a brand-new form factor. The clamshell Style will come packed with lots of fun features for the less business-y side of your life, like integrated access to your favorite social networking sites like Facebook and Twitter, YouTube, and a long list of IM clients that are built right in.
See what else the Style is packing, including pricing info, when you read more.
The BlackBerry Style will come with a 5MP camera with flash and video recording, GPS, and up to 32GB of memory space for music, videos, and photos, and two displays — an outer screen for viewing messages and notifications on the fly, and a large internal screen, which could be used to browse the web, watch videos, take pics, and all the other things you'd normally need a screen for.
Sound like something you'd be interested in? Well then, you can snatch up your own BlackBerry Style in gray or purple on Oct. 31 at Sprint stores (preferably in costume), or online for $99 after a $100 mail-in rebate and a two-year contract.