Blackberry OS 6.0 Details
6 Things to Look Forward to in BlackBerry 6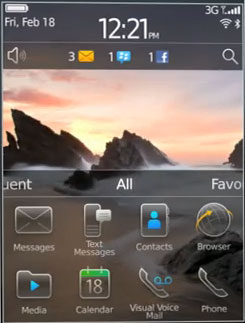 Earlier this year, BlackBerry told us a new operating system would be arriving this Fall. Now, a preview video for BlackBerry 6 aims to get users excited about some of its new features. Once attached to the hip of most working professionals in this country, BlackBerry smartphones have seen a decrease in popularity as iPhones and Android devices have grown in popularity. With a drastically different OS on the horizon, RIM is posing its BlackBerrys as devices to be reckoned with!
Check out the teaser video, plus six features to look forward to in BlackBerry 6 after the break.
New BlackBerry 6 features include:
Device searching Quickly search the entire device (or the entire Internet) for files, apps, or information.
Easy feed viewing View updates from across all of your social networks and enjoy an enhanced, easily customizable RSS feed view.
Simultaneous posting Post updates across all of your social networks with just one post.
Fluid interface Gone is the clunky, difficult to understand BlackBerry interface! The new, touchscreen-optimized interface makes it easy to navigate through your phone's applications.
BlackBerry Messenger Luckily, even with all the changes, the beloved BlackBerry Messenger is sticking around! Message BlackBerry-toting friends without worrying about text messaging charges.
Brand-new browser OS 6 is bringing the BlackBerry a brand-new browser that's easier to navigate and intuitive to use — plus, it's fast!
There's no launch date set for the new OS, though back in April, execs at RIM projected a September launch. Stay tuned for news of the new OS — and hopefully new devices poised to take advantage of everything it has to offer!