Blackberry OS 6.0 Music and Video Details
A Closer Look at BlackBerry OS 6's Music and Photo Features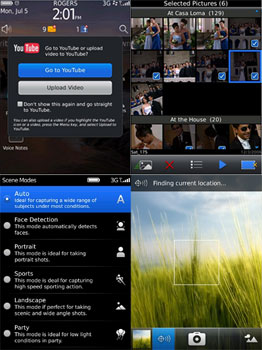 We've already given you six reasons to get excited about the next BlackBerry OS, but now we get a chance to dig a little deeper and check out the new system's media features. Coming with lots of new updates — like a sweet new media player, streaming video search, and photo organizational tools — the new BlackBerry is not just business, it seems as if it will be totally pleasurable to use for fun as well. Learn more about the music, photo, and video features below!


Photo organization — Organize and group your pics by event, or by date right in your phone. Viewing your images gets a little classier, since you can view by photo, or in a slideshow form complete with transitions. Plus, BlackBerry's with touchscreens can pinch to zoom.
New camera functions and scene modes — Speaking of photos, the BlackBerry OS will also support a whole slew of shooting modes like auto, portrait, sports, landscape, and party, while the camera will also feature face detection.
See more awesome media features coming with BlackBerry OS 6 after the break.


Video playback and search — Not only can you view your videos in an attractive thumbnail layout, but you can stream and share over YouTube, and can scour for videos onboard or online using the search function.
Music and album art — Load up your tunes via Media Sync, and your BlackBerry will automatically load album art, which you can scroll though and search in a very cool interactive CoverFlow style. Additionally, you can search and find new artists based on what song is playing.
Explore music and video apps — Have a fresh and clean BlackBerry OS 6 device? Search for new music and video apps to load up by using the new "Explore" function that makes finding new music and video apps in the BlackBerry App World a cinch.
See photos of each of these functions in the gallery below!