BodyMedia Fit Armband Reviews
30 Days With the BodyMedia Fit Armband: 5 Reasons You'll Love It
I talked about the BodyMedia Fit armband ($249) earlier this month, and finally completed my 30-day test drive of the fitness gadget that aims to make weight loss a science, not a guessing game. Wearing the band for up to 23 hours a day, you can program how much weight you want to lose and how quickly. Insert your stats (like body weight, height, and how often you normally work out), and BodyMedia will come up with goals for you to hit each day based on your BMI, calorie intake, and activity level.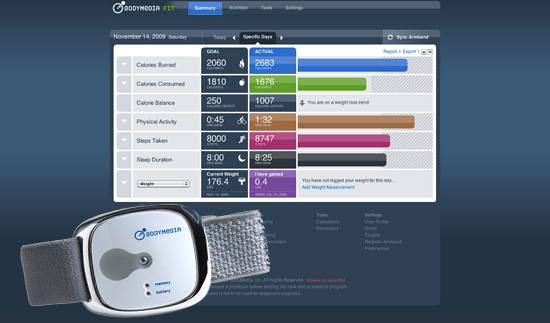 You can see all of your daily results in graph form, which makes it super easy to tell where you need to work harder, and you won't have to do any crazy math to figure out your calorie deficits — it's all done for you! I loved using the device, and it really opened my eyes to exactly how much I was moving during the day (spoiler: not enough). Check out five things I learned about the device below, and why I think you'll like using it too.
It's light and (semi) discreet — I thought the BodyMedia Fit armband was super light and pretty slim, which made wearing it under clothes virtually painless. I do wish it came in different colors though, since white is pretty hard to miss.
It tracks everything — Not only do you record your food intake through the web interface (it's stocked with thousands of foods, so you don't have to spend forever customizing your items), but it records your sleep time with scary accuracy, your steps, calorie burn, and exercise time. You'll get a holistic view of why you can't lose weight, or why you aren't gaining.
It serves as a reminder (in more ways than one) — Just wearing the band will remind you that you should get up and walk around, hit the gym, enter your food intake for the day, or pass on that second cookie.
See the rest of the list after the break.
It's durable — I didn't have a single problem with the BodyFit Media band for the 30 days I wore it, and that includes sweating it out at Coachella, popping it in and out of the band to hook it up to my laptop, and it has an incredible battery life span.
It's got a sweet app — Download the free BodyMedia Fit app from the iTunes store, and you can connect your band to your iPhone via Bluetooth, allowing you to see real-time results and update your profile on the go.