Bone Collection iPod and iPhone Armbands at Macworld 2010
Macworld 2010: Bone Keeps Your Gadgets Safe While You Sweat
Taking a walk around the Macworld Expo is like walking into a massive Apple store. Minus the computers, of course. One booth that caught my eye was Bone Collection, which was stocked with iPod and iPhone armbands, skins, and protectors. First up: the armbands. Not only are the Bone armbands made from a tough, rubbery material to protect your gadget from accidental drops, but its strap is silky smooth and comes with ventilation holes so you don't sweat the band off your arm. The best part is the bands are thin, so you don't have to worry about a bulky band banging against your arm while you work it out.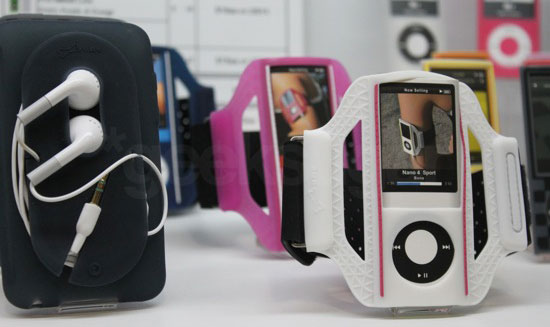 Bone also features some sweet silicone skins that come with an attached cord manager, so you can rock out on the move and keep tabs on your earbuds when you're done (instead of losing them to the depths of your bag). Add in some tiny (but fashionable) silicone iPod Shuffle sleeves, a cute cord manager in the shape of a bone, and you have a one-stop shop for all your iPod (or iPhone!) needs.
To see more of Bone's armbands, sleeves, and cord managers, just
.