The BookBook Laptop Case for Your MacBook and Macbook Pro
Wrap Your MacBook in a BookBook
We've seen manila envelope cases, cases that look like desktop icons, and ones that look like they're ready for battle, but never have we seen a laptop case for your Macbook that looks like a real book. Well, until now that is. Meet the BookBook ($80) — a book for your 'Book if you will — that I came across on Gizmodo.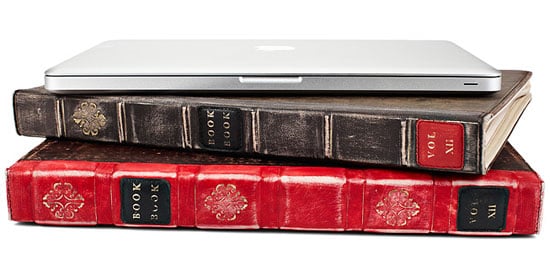 These laptop cases are crafted with your individuality in mind since every case has unique distressing, leather pulls, and zippers so no two are alike. The velvet interior wraps your MacBook in luxury, while the hard outside cover stands up to abuse, protecting against scratches, scrapes, and dents. If you've paid upwards of $1,000 for your MacBook, I guess it's not too much to ask to throw down $80 for a nice, protective case, right? Right.
Check out more photos of the BookBook when you
.