Books Like Hunger Games
4 Dystopian YA Novels to Feed Your Hunger
The end of the Hunger Games trilogy left us feeling empty inside, with only the movies to comfort us (we may have to see Catching Fire a few more times!). Before you go into withdrawal, take comfort in the fact there are a lot of esteemed young-adult books to satisfy your dystopian cravings. While plenty of weak copycat books that emerged because of the sudden fascination with The Hunger Games, a mighty few prevail. Below are our top picks:
1. The Lunar Chronicles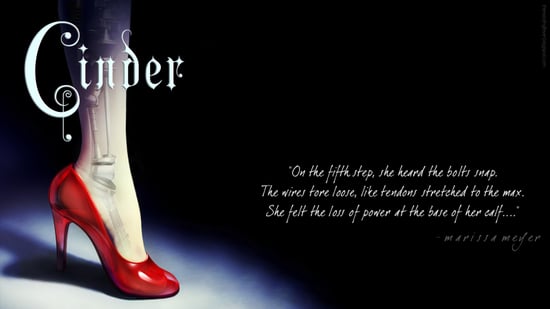 This is Cinderella like you've never seen her before: she's a cyborg called Cinder living in a futuristic China. Katniss fanatics will love Cinder, as she is the opposite of a frou frou princess. The protagonist is strong, independent, and doesn't mind getting her hands dirty, which she often does as a mechanic. This is a woman who doesn't need help from anyone to change tires! In fact, it's more likely men reach out to her to fix their machines. What I love about her is that she's just your average girl . . err . . cyborg. She doesn't have the unearthly beauty that we're used to seeing in fairy tale princesses and has insecurities about her looks just like many other women.
The series continues on its fairytale thread with Scarlet, which is author Marissa Meyer's unique interpretation of Little Red Riding Hood, and the third book, Cress, channels Rapunzel. All three are strong standalone books; every heroine has her own charm and brings a unique perspective to the table. It is truly a series worthy of a read post-Hunger Games.
2. The Fifth Wave

An alien invasion has decimated the human population on earth in Rick Yancy's dystopian YA book, The Fifth Wave. Aliens have been plotting against humans in waves and employing different methods to leave humans vulnerable to attacks. The first wave killed electricity, the second destroyed coasts, and the third brought on a plague.
Many of the adults have been murdered, leaving children and teens to fend for themselves. Readers follow Cassie Sullivan, another strong female protagonist, on her journey to retrieve her younger brother Sammy. Our hearts go out to her as she is forced to toughen up in order to survive. Unlike Katniss, Cassie has to go from a sheltered life into a grim and dark world, but the transformation makes Cassie more relatable than the Hunger Games protagonist.
Two more standout YA books . . .
3. Legend

Marie Lu's Legend is set in the Western US, now known as The Republic, a nation that's constantly at war with rest of North America. In the book, two star-crossed lovers from vastly different social circles meet: Day, the most wanted criminal in The Republic, and June, who grew up privileged and destined for the military elite. There is some criticism that this book is a bit weak on world-building, but many say it's a worthy dystopian read. It may not match the Hunger Games, but that's up to you to decide!

4. Stormdancer

Prepare yourself for a trip into another world as Jay Kristoff's Stormdancer transports you into a feudal Japan with mythical creatures. A great hybrid of steampunk and dystopian fantasy, the story of Yukiko's hunt for the thunder tiger — a half eagle, half tiger creature — will draw you in as you marvel at her strength and determination. Of course, no dystopian story is complete without a cruel and totalitarian government, and the protagonist has to face the punishment of death if she fails in her task to procure the legendary creature. The tale takes a twist when she forms a friendship with the thunder tiger. Will Yukiko be crushed by the Shogun, dictator of this warped historical Japan, or can she find the strength to stay true to her values?