Borders Launches Kobo eReader
Borders Launching Kobo eReader in June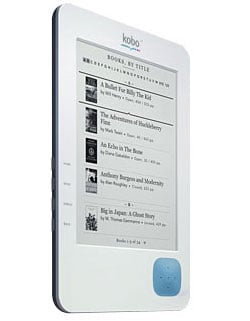 Just when you thought it was safe to save up some some cash for that ereader you've been wanting, another competitor enters the market. The Kobo eReader ($150) from Borders offers most of the features of the Kindle and Nook, but without all the extra bells and whistles. That translates to a lower price for those of you on a budget or who just want to read your books easily on the go.
Kobo is compact: weighing in at just eight ounces and with measurements that stack up against its two main competitors (7.2H x 4.7W x 0.4D), it's a great alternative to the more popular ereaders on the market. It doesn't come with WiFi or 3G connectivity, games, or storage for your MP3s, but it does have an e-ink display for easy reading, flexible fonts, custom title organization, and reads ePub, PDF, and Adobe DRM files with ease. Update and purchase books via the USB cable and Borders app on your computer or from your smartphone via Bluetooth and store up to 1,000 titles with its internal 1GB of memory (upgraded to 4GB with SD memory card). Kobo comes with a D-pad style navigation system, so gamers should feel right at home with the Kobo!
Find out when and how to get your Kobo after the break.
Me? I'm pretty stoked about this new addition, not only because I think $150 is a great price, but because the Kobo comes packed with 100 classic titles all ready to go. You're getting a pretty big bang for your buck! The Kobo is out on June 17, but you can preorder it at the Borders online store now.