Bottle Opener iPhone Case
How Have I Not Seen One of These iPhone Cases Before?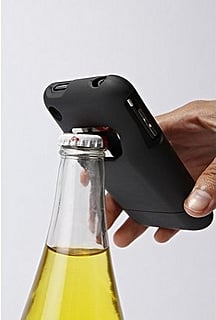 iPhone 3G and 3GS users: check this one out. The iBottle Opener 3G ($24) is part case, part bottle opener, all awesome. The case is soft touch plastic, and the opener is sturdy metal and is the perfect iPhone accessory for your next tailgate party or casual get-together.
The case protects your phone completely from the opener, so there's no chance of scratching. Though I'd recommend using this opener to only open your first few brews . . . and I probably wouldn't share it with the tailgaters a few spots over.
Sorry, iPhone 4 users, you'll still have to pack your own bottle opener.