Boxee TV Review
Why Boxee TV Will Be at the Top of Your Wish List
We've grown to expect a lot from television — mobile apps for phones and tablets, shows on demand, web streaming, brilliant high-definition video — and today's release of Boxee TV ($99) shows that we can expect much more. With all of the smart TV consoles on the market, it would be safe to say the days of the cable box domination are nearly over.
But Boxee TV is a breakthrough because it brings traditional small-screen channels from cable or an antenna and a high-tech, integrated smart TV system together in one device. Here are five reasons why you'll want to get a hold of Boxee TV, and how this new entertainment console will change television for the better.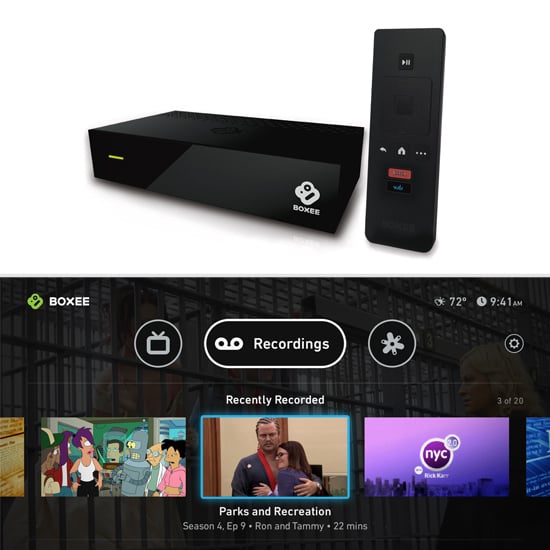 Unlimited DVR storage — Like a lot of today's tech, Boxee TV works in the cloud, and since there's a lot of space up there, you'll never have to delete a show from the console. It's only available in the top eight TV markets for now (New York City, Philadelphia, Washington DC, Atlanta, Chicago, Houston, Dallas, and LA) and will be offered free initially while the service is in beta. But, eventually, the no-limits DVR will be available everywhere and cost $10 per month.
Watch on any screen — Phones and tablets turn into remote controls and program guides, laptops and computers can schedule recordings away from home, and recordings can be viewed and accessed from any of those devices, including your basic ol' TV.
Read on for more of why Boxee TV makes for a better entertainment experience.
Free TV channels — There's an antenna included in the box, but Boxee will work with any antenna you already have (some remote residences may need a special receiver) to grab HD and surround-sound signal from channels like ABC, CBS, NBC, FOX, and CW for free. If you already have a cable or Verizon FiOS subscription, that's OK, too — Boxee is compatible with paid TV as long as it has ClearQAM unencrypted channels. And while it may seem like having to pay for TV on top of Boxee is a pain, the console also supports apps for Netflix, YouTube,

VUDU

, Pandora, Vimeo, MLB.tv, Cloudee, Spotify, and others.
Play any standard file — Made a movie of your vacation? Bought a digital copy of the newest Spider-Man? No more VGA cables or special ports necessary; just hook up an external drive to one of the USB ports in the back and Boxee TV can play it.
Perks for early adopters — The first wave of Boxee TV buyers will receive three months of Netflix for new and existing subscribers, three months of no-limits DVR (in select cities), a $6 VUDU credit for new subscribers, and one month of Spotify Premium. Plus if you owned Boxee TV's predecessor, Boxee Box, you'll get a year of no-limits DVR free.
To get started, users will need an Internet connection (WiFi or ethernet) and TV reception (check what channels are available in your area with Boxee's Reception Tool).
Is the no-limits DVR service something you'd be willing to pay for?